Nepalese Students Cope With Second Earthquake
Published
Wednesday, May 20, 2015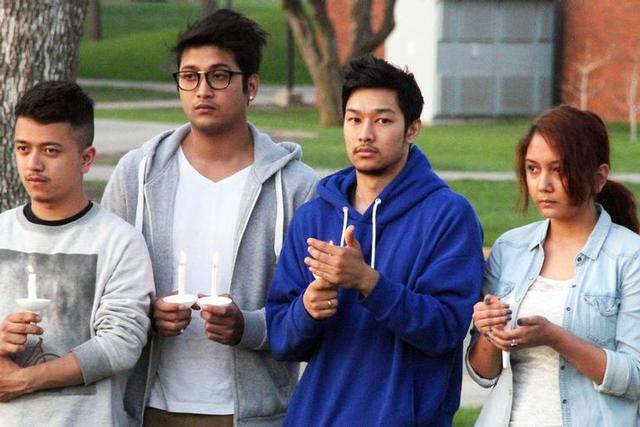 SMSU Nepalese students at a vigil following the initial earthquake.
The second major earthquake in Nepal in less than three weeks has added further damage to an already devastated country, and left the SMSU Nepalese community with more questions than answers.
SMSU has 56 Nepalese students attending the University out of an international student population of 125. The tight-knit community was rocked on April 27 with a catastrophic earthquake. Then, on May 12, a second earthquake hit the country, causing even more damage and adding more chaos to a country whose residents have seen their day-to-day lives change to survival mode.
"The second earthquake occurred after commencement, when most of our Nepalese students had left," said Don Robertson, Director of International Student Services.
"About half of them returned home, and we are trying to contact them to see how we can help. Many have stayed in the U.S., too, visiting relatives. Many have gone out to the Maryland area.
"From what we have been able to gather, our students are shaken emotionally and mentally."
Robertson said, too, that organizations that the University works with to assist students in coming to the U.S. to become SMSU students have had their buildings badly damaged. "It's gone from bad to worse for them," he said.
Those wishing to donate to the relief efforts may do so through the SMSU Foundation designated to the Nepalese Relief Fund: www.SMSUFoundation.org. Online donations may also be given through the Lions International website: www.lionsclubs.org