Boys State Runs June 14-20 at SMSU Ninth Year at the University
Published Thursday, June 04, 2015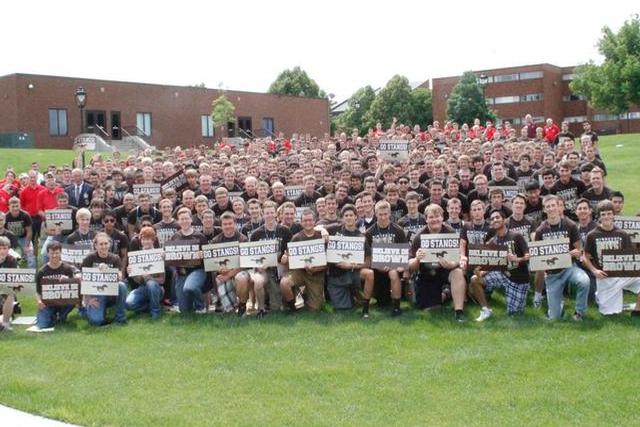 Boys State
Approximately 350 boys from across Minnesota will participate in the 67th American Legion Boys State, which will be held June 14-20 on the campus of Southwest Minnesota State University.
"That's a good number, approximately what we had last year," said Mike Bredeck, Boys State director. "We've always managed to have a lot of fun while teaching the boys about the political process."
This is the ninth year that SMSU has hosted Boys State. SMSU is committed to hosting the annual event through 2016. "SMSU has been the perfect host for us since being selected as the site nine years ago," said Bredeck. "Hosting Boys State in Marshall exposes the boys to a fantastic university located in a fantastic community."
Boys State is an exercise in applied government. Participants will learn, hands-on, about government, patriotism and citizenship. They can participate in city, county and state government activities and elections, including the campaign process. A Boys State governor will be elected at the end of the week.
All Boys Staters are seniors-to-be at their respective high schools, and are sponsored by American Legion posts across the state.
"This year we will continue to stress city and county government," said Bredeck. "That is what affects your average citizen the most, but in some regards, is taught the least."
While attending Boys State, participants will be introduced to a number of speakers, including Congressman Tim Walz; past Sons of the American Legion National Commander Joe Mayne; Minnesota Supreme Court Justice Paul Anderson; former state representative Marty Seifert; and former Senate majority and minority leader Dean Johnson, among others.
In addition to the political activities that all Boys Staters will engage in, there is a Boys State band and a Boys State choir. Those two groups will give a free concert at 7 p.m. on June 19 in the Schwan Center for the Performing Arts at Marshall High School.
Boys will also be able to participate in organized sporting events, including volleyball, basketball and softball. A daily newspaper will also be published.
Boys State participants and staff members are housed in the residence halls at the university.
Any Boys State member who elects to attend SMSU in the fall of 2015 will receive a scholarship.
For more information about Minnesota Boys State, visit the Web site: www.mnboysstate.org.
Related Articles