SMSU, MnWest Sign Collaboration Agreement
Published Thursday, June 11, 2015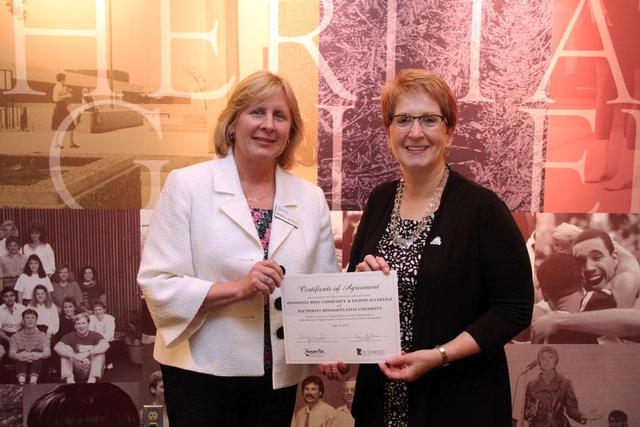 Minnesota West interim President Dr. Barbara McDonald, left, and SMSU President Dr. Connie J. Gores
Southwest Minnesota State University and Minnesota West Community and Technical College have entered into collaborative agreements that will allow seamless transfer of credits from MnWest graduates who wish to pursue Law Enforcement Management or Justice Administration four-year degrees at SMSU.
In addition, SMSU Justice Administration students wishing to complete the 10-week "skills" course associated with the degree may now do so through Minnesota West.
Minnesota West AAS and AS degree holders in Law Enforcement may now transfer all of those credits as they pursue a four-year degree in either Law Enforcement Management or Justice Administration at SMSU.
"Over the years the university has developed partnerships with Minnesota West in a number of areas, and we are excited to be continuing that today," said SMSU President Dr. Connie J. Gores. "We hope to be doing more of this in the future."
Jay Vargas, sociology professor at Minnesota West, said the agreement is important for students, and the region. "We are excited about this," said Vargas, a former adjunct professor at SMSU. "I have had students ask me about this agreement, whether it will happen. This will help keep these law enforcement students in the area. Having this agreement with SMSU will benefit them, and the region."
Last year, SMSU's Justice Administration program was granted Professional Peace Officers Education Certification by the Professional Peace Officers Standards and Training Board.
"Both Minnesota West and SMSU are dedicated to educating the future law enforcement officers of this state. Coming together today signifies both institutions' dedication to help students succeed," said BC Franson, SMSU associate professor of justice administration.
"People in southwest Minnesota rely on us to assist in the workforce shortcomings of the region," said Minnesota West interim President Dr. Barbara McDonald. "We want our students to live and work here and become productive citizens. I am thrilled this is a first step."
Vargas said Minnesota West has been in talks with the city of Marshall about incorporating the new driving track at the upgraded MERIT Center for the driving skills portion of the skills training. He said the skills portion of the four-year degree will be fully in place by next summer.
Minnesota West students wishing to transfer their credits to pursue a four-year degree may do so in the fall semester 2015, said Franson.
Related Articles