Gold Rush Days Approaching
Published Monday, July 06, 2015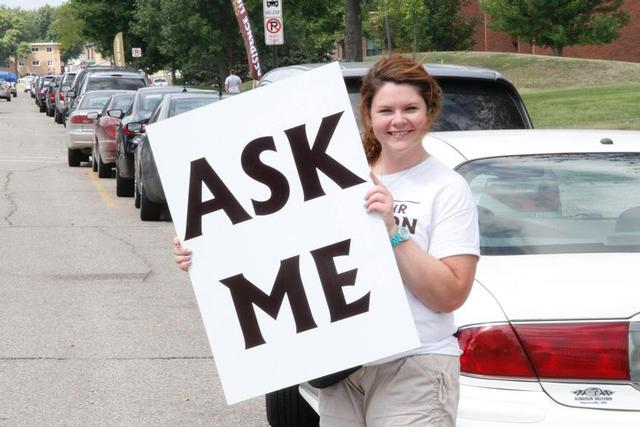 Gold Rush Days
High school graduates are starting to think about going off to college, and the Office of Admission is busy this summer getting ready for their arrival during Gold Rush Days Aug. 20-23.
The annual Gold Rush Days program is an opportunity for incoming freshmen to get acclimated to the campus, meet their classmates, learn about how to find success in college, and have fun while doing it.
Move-in Day is Aug. 20. Hundreds of volunteers will greet freshmen and their families as well as help them move belongings to the Residence Halls. A campus cookout will be at 11:30 a.m. and is open to all new students and family members. A women's volleyball scrimmage featuring the SMSU Mustangs, last year's national runners-up, will be at 7:30 p.m. Comedy mentalist Sean Bott performs at 9 p.m.
Convocation is Friday, Aug. 21 at 9 p.m. and will feature a distinguished SMSU graduate as the keynote speaker. Gold Rush Waves, featuring water inflatables and water games, is at 1 p.m. Bean bags and sand volleyball are in the afternoon, leading up to a presentation by Blake Leeper entitled "Running Toward Your Dreams."
The legendary Johnny Hold Band will perform at 9 p.m. on Mustang Trail outside of the Schwan Regional Event Center.
Gold Rush Days coincide with the annual Smokefest celebration at SMSU, and students can get a special Smokefest dinner for $5. An outdoor movie is also available that evening.
Saturday will include several presentations. The always hilarious mud volleyball tournament begins at noon. A unique act, rePercussion, will perform at 8 p.m. in the PE Gym.
The entire SMSU community looks forward to welcoming Class of 2019 members to campus during Gold Rush Days 2015.
Related Articles