9th Annual Smokefest August 21-22
Published
Wednesday, July 29, 2015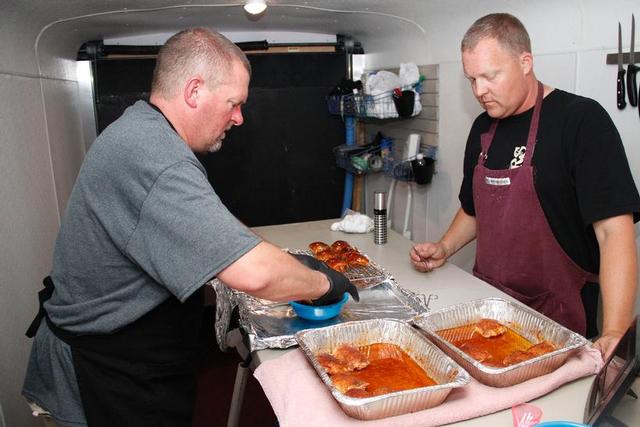 Sons of Butchers team prepares to turn in their chicken during the 2014 competition
The ninth annual Southwest Minnesota State University Smokefest BBQ Contest will take place on Aug. 21-22, on the campus of SMSU at the Schwan Regional Event Center.
The event will once again be in conjunction with the city of Marshall's "Sounds of Summer" celebration. Enjoy a great time with friends with excellent food, games and much more! The Smokefest Carnival will be open from 5:30-8:30 p.m. with inflatables, face painting, balloon shapers and more. The vending area will be open from 5:30-8 p.m. serving great food, including authentic BBQ provided by HyVee.
Again this year, SMSU Athletics will be showing a movie on the video board at the Schwan Regional Event Center. The hit movie "McFarland USA" will be played starting at 7:30 p.m. Following the movie, the popular "Johnny Holm Band" will take the stage and perform from 9 p.m. to midnight.
The Mustang Booster Club will also hold its annual "Kickoff Picnic" from 6:30-7:30 on Friday night. Individuals will have the opportunity to sign up for the Mustang Booster Club or purchase season tickets for SMSU football, volleyball, basketball and wrestling. Current or potential Booster Club members are invited.
All events for the night are free and open to the public.
The SMSU Smokefest has twice been honored with the NCAA Division II Community Engagement Award of Excellence, which is awarded to schools that emphasizes not only the relationship of the athletics program with the community but also the interaction of the overall institution with the community in which it is located.