Frederickson is Convocation Speaker
Published Wednesday, July 29, 2015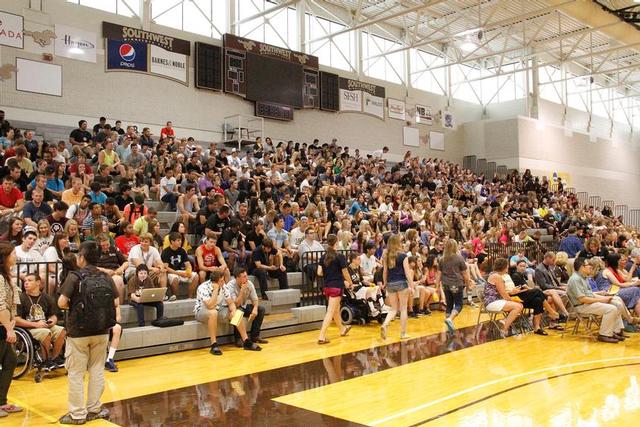 Convocation, 2014
SMSU alumna Nikki Frederickson is back in the United States. At least some of the time.
Frederickson, this year's convocation speaker during the upcoming Gold Rush Days, is a 1993 SMSU alumna with an interdisciplinary degree in Marketing and Speech Communication. She went on to receive a master's degree at St. Thomas.
The St. James, Minn., native recently took a position as the Global Marketing Director for ACIST Medical Systems, a medical device company based in Eden Prairie, Minn.
Prior to that, she was with Boston Scientific for 13 ½ years. She held several positions with Boston Scientific, the most recent being Director of Strategic Relations/Medical Affairs.
She spent her final three years with Boston Scientific living in London, England, something she grew to enjoy. There are still parts of the culture there that she misses, she said.
"It's nice to be back, closer to family," she said. "I do miss the cultural diversity, and the access to mainland Europe and the public transportation is amazing."
And while she's now living in the U.S. again, there's still a lot of travel involved in her position.
Frederickson was an RA for two years, the public relations coordinator for the Student Association and the dance line captain. She was active in the Marketing and Radio/TV Clubs. She liked the size of SMSU when she visited. "I liked my ability to get involve early and often," she said. "I also knew my major right away, I knew I was going to pursue (Marketing/Speech Communication). My experience at SMSU made me well rounded."
And the friendships she made have endured. "The friends I met while being an RA are still my friends, my 'SMSU Posse,'" she said with a laugh.
Frederickson said she navigates toward diversity, and liked how diverse SMSU was when she attended. "I like to know people's backgrounds, their story," she said.
She will share her experiences with Class of 2019 members when she gives the keynote address at 9:30 a.m. on Friday, Aug. 21 in the R/A Facility.
Gold Rush is a time for students to meet their professors, become familiar with the campus and share activities with fellow incoming freshmen.
Move-in Day begins at 8 a.m. on Thursday, Aug. 20. A picnic will be held at 11:30 a.m. Also scheduled is a Religious Center ice cream social at 2 p.m., a women's volleyball scrimmage and comedy mentalist Sean Bott.
Following convocation on Friday, students will meet their advisors, and can participate in Gold Rush Waves, a bean bag tournament, sand volleyball and listen to the music of Johnny Holm in front of the Regional Event Center.
Students can also receive a Smokefest meal for $5 that evening. The annual Smokefest competition  — a Kansas City Barbecue Society sanctioned event — is hosted by SMSU on Aug. 22 and 23.
The popular mud volleyball tournament will be held at noon on Saturday, Aug. 22. There will be open gym and open swim times and an introduction to intramurals.
At 6:30 p.m. students will hear from Elaine Williams about "Sex Rules Straight Talk," followed by rePercussion, an interactive performance of sight, sound and laughter that blurs the lines between electronic  music, drum line, rock  and slapstick.
Campus and classroom tours are available Sunday, Aug. 23, along with bus and bike tours, a transfer student social, a Drama Club comedy act, and go-kart, arcade and mini-golf opportunities. Playfair, a presentation that lifts campus unity and school spirit, will also be available.
Further information about Golf Rush Days can be obtained from the Office of Admission: 507-537-6286. Information is also available online at: www.smsu.edu/admission.
Related Articles