GOLD College Kickoff Sept. 15
Published Monday, August 24, 2015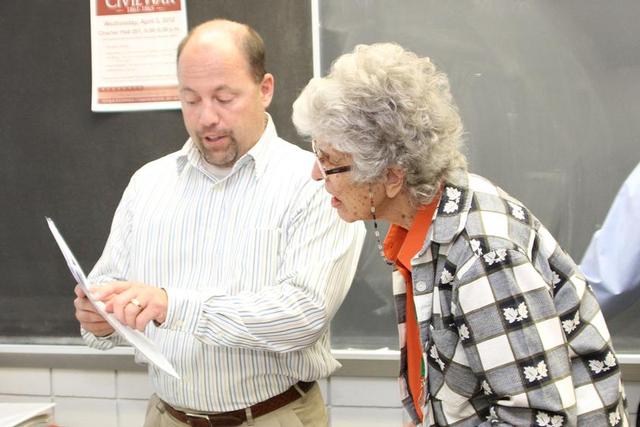 GOLD College
The fall session of GOLD College, formerly called Senior College, at Southwest Minnesota State University will kick off at 2 p.m. on Tuesday, Sept. 15, 2015 in Charter Hall 201 on campus.
The program will feature the string quartet Artaria from the Twin Cities area. They will share the history and music from WW1. The arrangements are from composers who either during  World War I, or who were finding their voice to express that awful time in a way that only music can. The kickoff presentation begins at 3 p.m. and is open to the public.
Registration will be held from 2-3 p.m. GOLD College participants will have the opportunity to meet their study group leaders during the event.
GOLD is an acronym for Growth, Opportunity, Learning, Development. GOLD College offers non-credit classes with a variety of topics. Each class is held one day per week for two hours. There are no tests or grades, and it is for people of all ages.
Registration for fall session is due Sept. 15.  A flat fee of $100 will be required to cover up to four courses. Study groups are planned for six weeks, from Sept. 21 through October 30.
Contact the GOLD College office for registration materials: Marcia.Beukelman@smsu.edu; 507-537-7164.
Senior Classes this session include:
Mondays
The Greatest Lakota Leaders - Four men led the Lakota Sioux through the 35 year transition from unconquered rulers of the high plains to a people totally subjugated by white America. Discussed in this class: the differences and similarities in personality and leadership style between Spotted Tail, Red Cloud, Sitting Bull and Crazy Horse and the relevance to historical events; 9-11 a.m.
Making Your Own Pottery - Students will work with clay to create hand-built pottery forms.  These will be dried and fired in a kiln, then glazed and fired again to the glaze temperature.  Working on a potter's wheel may be an additional option; 9-11 a.m.
Computer Tips and Tricks -This class will be tailored to the participants' computer interests.  First class will be soliciting topics you want to have addressed.  Topics such as on-line banking, email, uploading photos to various sites, Facebook how-to's, sync computer with iPhone and iPad, Microsoft office tips with Word and Excel, internet tricks and tips, etc.; 11:30 a.m.-1:30 p.m.
Jane Addams and the Spirit of Reform - This class will look at the many reform initiatives of the early 20th century through the lens of Jane Addams and the settlement house movement, where so many of the reforms originated.  The class will look at immigration, the labor movement, children's issues, politics, and finally the impact of World War I; 2-4 p.m.
Tuesdays
Carving Christmas Tree Ornaments - Several different styles of woodcarving will be taught in this session.  This class will also include painting of the carvings.  This class is available to experienced, as well as beginner woodcarving students; 9:00-11:00 a.m.           
Embark on Extraordinary Adventures – Bursch Travel and its cruise and tour partners will present travel opportunities for travelers over 60.  Come learn about exciting destinations around the world.  Hear more about all the unique ways to discover these fascinating places, whether by cruising, touring or multi-generational travel —there is something for everyone to enjoy; 11:30 a.m.-1:30 p.m.
Civil Rights Movement - This course will examine how the African Americans organized a movement that transformed the South and America. Through discussion, reading short documents, and watching movies the Civil Rights Movement will be explored. 11:30 a.m.-1:30 p.m.
Local Minnesota Authors - We will read some of the work of 7 local authors, discuss what they say about our region and how they fit into the larger picture of literature, and maybe listen to/look at some audio and video materials; 2-4 p.m.
Get Hooked on Crocheting - If you are interested in learning to crochet or to improve your crocheting skills, this is the class for you; 2-4 p.m.         
Wednesdays
The Art Nouveau Movement:  A Brief History - This course offers a look into the opulent era of the "new art" (c. 1890-1914), particularly of France and Belgium, but also found in other European countries, England, the U.S., and additional locations;; 9-11 a.m.
One Act Play - On Stage or Backstage – Students will audition, rehearse, and prepare the technical aspects for a one-act comedy play. You may choose to be an actor and/or a technician, scenery or costuming for this class; 9-11 a.m.      
Policing - It's Not as Easy as Andy of Mayberry Would Have You Believe - This is an opportunity to gain a better understanding of the interesting life of a law enforcement officers' duties and responsibilities. Current regional crime trends, highway safety efforts and officers' decision-making processes and local actual case studies will be presented by guest presenters; 11:30 a.m.-1:30 p.m.              
Classic TV of the '50s and '60s - Students will be viewing several very special episodes from Andy Griffith, Leave it to Beaver and others and looking at the lessons from these shows and see how they can apply to our lives today; 2-4 p.m.  
Introduction to Geography - This course introduces students to the concepts of geography by covering physical and human geography, the basics of cartography and GIS; 2-4 p.m.
Thursdays
A Look Back at the 1950's - Do you remember drive-in movies, fins on cars, hula dancers in the rear window, and bobby socks?  If so, you are the right person for this class; 9-11 a.m.                  
Your Cooking Matter - This course is designed to acquire nutrition awareness and new cooking skills. Participants will suggest the topics. The participants will be in the kitchen and prepare a correlating recipe; 11:30-1:30 p.m.
Read and Understand Financial News - If you have investments or a retirement account that owns stocks, bonds or mutual funds, it can be confusing to understand. Participants will read actual financial news stories of companies and use them to explore basic concepts and common terms. We will take the fear of reading unknown financial jargon and abbreviations; 2-4 p.m.
Let's Knit Together -This class is good for everyone from first-time knitters to those who would like to renew their skills and learn some new ones; 2-4 p.m.
Related Articles