SMSU Family Weekend Sept. 11-13
Published
Monday, August 24, 2015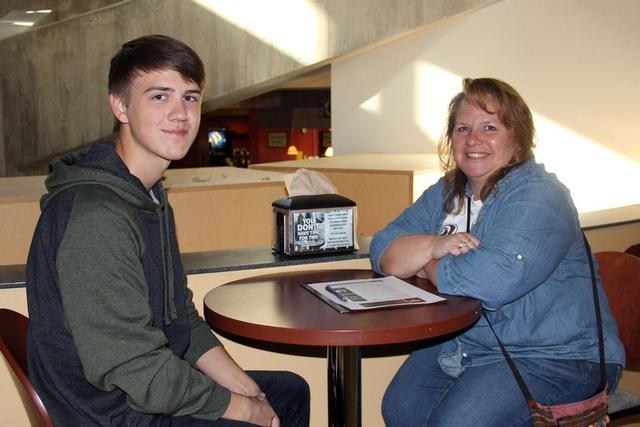 SMSU Family Weekend
Families of Southwest Minnesota State University students will have an opportunity to experience campus life during Family Weekend, Sept. 11-13.  Parents, siblings, grandparents and other family members of SMSU students are invited to participate.
Family Weekend will begin on Friday, Sept. 11 with two showings of "Inside Out" at the Cinema @ The Centers at 6:30 p.m. and 9 p.m.
Also on the 11th will be a 7 p.m. Planetarium show in SM 108. Take 2 Improv will host a show at 8 p.m. at the Fine Arts Black Box Theatre.
On Sept. 12, families may attend a lunch buffet from 12-1 p.m. in the Student Center, Room 216.  A ventriloquist performance by James Wedgewood is at 1 p.m. in the Fine Arts Theatre. The Chemistry Club will perform a magic show at 2 p.m. in Charter Hall 217. 
Families can join in outdoor Ag Bowl activities including inflatables, a pedal pull contest, petting zoo, face painting, pony rides, a beverage tent and hay rides.
Residence Life will also be providing cotton candy and snow cones in the R/A west parking lot before the Mustang football team takes on Bemidji at 6 p.m.  An open house at the Campus Religious Center will follow from 9 p.m.-midnight.
Several events are planned for Sept. 13. The Mustang soccer team takes on Southwest Baptist in the Schwan's Regional Event Center at 1 p.m. The movie "Inside Out" will be shown at 6:30 p.m. and 9 p.m. at the Cinema @ The Centers.
For more information, call the Student Activities and Leadership Development Office at 507-537-6394.
Friday, September 11
6:30p.m. and 9:00p.m.: Cinema @ the Centers "Inside Out," Student Center Lower Level TV Lounge
7:00 p.m.: Planetarium Show: "Discover the Stars", SM 108
8:00 p.m.: Take 2 Improv, Fine Arts Black Box Theatre
Saturday, September 12
10:00 a.m. - 4:00 p.m.: Check-in at Student Center east entrance, across from Barnes & Noble Campus Store
12:00 p.m. – 1:00 p.m.: Lunch Buffet, Student Center 216
2:00 p.m. – 4:00 p.m.: William Whipple Art Gallery, Terrence Fogarty exhibit, SMSU Library
2:00 p.m.– 5:00 p.m.: Student Center Mustang Zone (free play), Student Center Upper Level Game Room
2:00 p.m. – 3:00 p.m.: Chemistry Club Magic Show (Followed by liquid nitrogen ice cream), Charter Hall 217
3:30 p.m – 6:00p.m.: Ag Bowl Activities, Inflatables, Pedal Pull Contest, Petting  Zoo, Face Painting, Pony Rides, Food and Beverage Tent, Hay Rides
4:00 p.m. – 6:00 p.m.: Residence Life/RHA cotton candy, snow cones, R/A west parking lot (inclement weather, R/A Facility)
6:00 p.m.: Football Game SMSU vs. Bemidji
9:00 p.m. – Midnight:  Open House at the Campus Religious Center; relaxation and fellowship: Finger foods, snacks and drinks to enjoy after the game (free) ? 
Sunday, September 13
1:00 p.m.: Soccer vs. Southwest Baptist, Schwan's Regional Event Center
6:30 p.m. and 9:00 p.m. Cinema @ the Centers: "Inside Out," SC TV Lounge