Exercise Science Major Helps Change Man's Life
Published Friday, August 28, 2015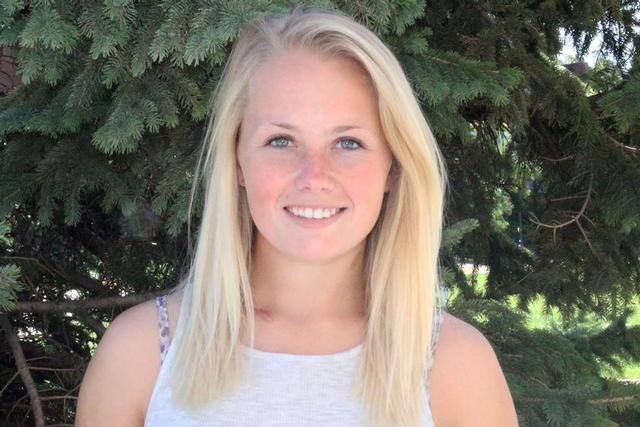 Kristy Leopold
Last February, Mike Berg hadn't even met Kristy Leopold. Today, he considers the SMSU senior a part of his family.
Berg is an executive with the Schwan Food Company and Leopold is an exercise science major from Fox Point, Wis., near Milwaukee. The two were paired last February as part of a wellness program between the Schwan Food Company and the exercise science program at SMSU.
Each semester, approximately 60 clients work with SMSU exercise science students, said Dr. Kris Cleveland, assistant professor of exercise science. "Some Schwan employees, some are SMSU faculty and staff and there are a few community members," said Cleveland. Exercise science is one of the fastest growing majors at SMSU, and there are 162 majors this semester.
The client and student meet and discuss wellness goals, how to reach those goals and agree to a wellness plan. Each client's goals are different.
In Berg's case, the challenges were many. Twenty years ago he was in a car accident that left him a paraplegic. Fast forwards to last Saturday, when he completed the Tiger 5000.
With the support of family and friends, and a very special SMSU friend, Berg was able to do what was unthinkable several years ago. "She has changed my life," he said of Leopold.
His is an amazing story. "I fell asleep at the wheel," he said of the crash. "I went into the ditch, hit an embankment and flew 60 feet in the air. My L1 vertebrae exploded, and I fractured my 2-up and 3-down vertebrae. I had a severed spinal cord."
He was in a wheelchair for about three years, and received his occupational and physical therapy through the Sister Kenny Institute in Minneapolis. For the first six months, he could feel nothing.
"Then I had some sensation in my big toe. And then in the muscles on the top of my kneecaps. Two physical therapists helped me off hours to build my muscles and get my brain to work with my muscles," he said.
Berg moved to Marshall nine years ago next month to work for the Schwan Food Company. He was employed at Tyson Foods in Springdale, Ark., when he was recruited. Walking, even sitting in a chair for a long time, were not easy tasks for him. He had no stamina. "But after he learned how to walk, his physical therapy was over due to insurance regulations, but he wasn't happy where he was it," said Cleveland. "That's where a personal trainer was a perfect fit for him."
Berg saw the notice about the Schwan-SMSU wellness initiative, and called right away. He hit it off immediately with Leopold. "There's a reason certain people cross your path," he said. "Kristy has become a daughter to us, and a close friend."
Berg calls himself a "walking paraplegic" and his progress is nothing short of amazing. Since starting his program with Leopold, he has lost 20 pounds, and has dropped his body fat to 12 percent. "Walking for him wasn't easy, he was at risk of falling when he climbed stairs, and sitting in a chair was a process," said Leopold.
She convinced Berg to follow a healthier diet — gone was the Mountain Dew — and her individual work with him resulted in steady progress. He cut 10 minutes off of his walking mile time, and "he's no longer in pain after a long duration of activity," said Leopold. 
Berg, an Annandale native, attended college the University of Minnesota-Duluth, where he was on the hockey practice squad for a couple of years — the ice version of "Rudy." He's also an avid bass and walleye fisherman, and had been active all his life.
His progress was immediate, said Berg. So much so that he didn't want to end their program together at the end of the spring semester. "She very easily could have handed me off to someone else (at the end of the semester)," he said. "I asked her to continue during the summer, and she agreed."
Such an extended arrangement is unusual, said Cleveland. But then again, Berg's situation is usual. "We worked out every day of the week this summer, and we do it every day we can now that school has started," he said. "She always tried to find a new and different ways to work with me, to break it down to the fundamentals. We are both competitive, and I wanted to do better; I didn't want to let Kristy down."
When they began, he walked the mile — 7 ½ laps around the elevated walkway around of the PE Gym — in 25 minutes. That time is now below 14 minutes. "Then she threw out the idea that I have got to do the 5K," he recalled.
Back in February, he had trouble going up and down stairs without assistance. They worked on that, to the point "that I was running up and down the stairs of the Regional Event Center three of four times just to warm up. In the past, you would have to put me on a cot and take me to the hospital after that, and that was just a warm-up," said Berg.
Leopold is a goalie on the SMSU soccer team and understands physical limitations. Since enrolling at SMSU, "I have had four procedures to correct a collapsed vein in my chest. It has limited me in my ability to play soccer, and my ability to perform in school. I was out of school for a while my sophomore and junior years, and the people in exercise science were accommodating. What I have experienced has helped me empathize with Mike."
As the Tiger 5000 approached, Leopold went to head coach Erin Kasmarik-Mallett and explained she would be late for practice last Saturday. "Then I got to thinking how important it is to Mike and how he's helped the soccer team. I approached the captains and the rest of the senior class and asked if they would be willing to meet Mike at the finish  line. Through this all he's met my teammates, my friends, and I know they're tired of listening to me talk about Mike's progress."
So with a quarter mile to go before the finish line, with Berg struggling — "he was on his fifth wind," said Leopold — she told him to look up. Walking with him were his wife Kate, daughter Grace and a nephew. Ahead, he saw his parents, Don and Jadynne Berg, along with the SMSU soccer team cheering him on with every step.
"There wasn't a dry eye after that," she said.
Leopold will graduate this December and enter an accelerated nursing program at South Dakota State. "I'll finish in a year," she said. "I want to have a wellness career. I prefer to work in a job where I am able to work with people like Mike, an at-risk population. I want to change someone's life, like I have Mike's."
And she won't forget Berg when she leaves. "Being paired with Mike changed my life. He has changed mine more than I have changed his. He has given me confidence in myself and confidence to apply what I have learned in the classroom to a client."
"Kristy is a first class young lady. If there is anything I can do for her, I will do it. She has given a lot back to me and my family, and she is a second daughter," said Berg. "She has given me a second chance."
Related Articles