Ninth Annual Ag Bowl set for Saturday, Sept. 12
Published Wednesday, September 02, 2015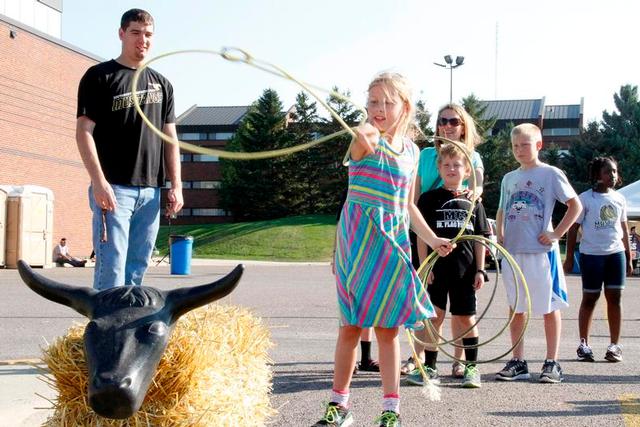 Ag Bowl
The ninth annual Ag Bowl—presented by Ralco Inc.—is set for Saturday, Sept. 12, at the Schwan Regional Event Center and SREC parking lot on the campus of Southwest Minnesota State University.
The day is a celebration of agriculture in Minnesota and features numerous events for both kids and adults. Participating sponsors of Ag Bowl include Ralco, Titan Machinery, ADM, Channel Seed, HyVee, CHS, Minnesota Corn & Soybean Growers Association, Pepsi, Syngenta, Doll Distributing, Lockwood Motors, Action Sports and Brau Brothers.
Starting at 3:30 p.m., activities for all ages begin, including a petting zoo, pony rides, tractor displays, hay rides, calf roping, egg toss, face painting, bull riding, a root beer float stand and inflatable games. The popular Kids Pedal Pull will also take place with registration starting at 4:30 p.m. for kids ages 4-11.
The HyVee Food Zone is back serving great food and beverages starting at 3:30 p.m. until 6 p.m.
The day is capped by the SMSU football game versus Bemidji State University starting at 6 p.m.
Proceeds generated by the Ag Bowl will fund scholarships and programming for worthy student-athletes and young people who will dedicate their careers to business success in agriculture, environmental science and the food industries.
SMSU's educational programs in agriculture, environmental science and food arts and sciences develop young people who spend their careers working to grow the economic success of the agricultural industry. In acknowledgement of these efforts, the University has been the recipient of three NCAA Civic Engagement Awards for Ag Bowl.
Southwest Minnesota State University is proud of the fact that it is located in southwest Minnesota, a region where agriculture provides the foundation for the economy.
For more information on Ag Bowl, including a complete listing of events, log onto SMSUmustangs.com/agbowl.
Related Articles