Sterner Mustang Sculpture Unveiled Sept. 23
Published
Thursday, September 10, 2015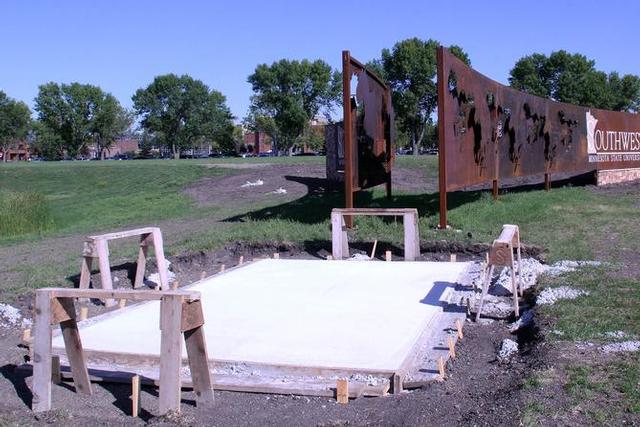 The Mustang will be placed on footings which were recently poured
"This isn't the work of one guy," said 1991 SMSU alumnus and sculptor John Sterner. "This is the work of a whole community."
Sterner is referring to what will become the centerpiece of the near-finished University Entrance Project — a 9 ½-foot long, 6-foot tall, 1,400-pound bronze Mustang sculpture.
The sculpture will debut at the apex of the new SMSU welcome sign at the intersection of Highways 23 and 19. An unveiling of the sculpture is planned for 2 p.m. on Wednesday, Sept. 23. "It's an unveiling, but not a formal dedication," said Bill Mulso, Vice President for Advancement at Executive Director of the SMSU Foundation. "We hope to have it lit by the 25th, so people can enjoy it during Homecoming. It's turned out to be a great project and is a nice welcome to those coming to campus."
In all, the finished project will be about 90 feet long. "It will really fill the space," said Sterner. "From an airplane view, it looks like a rocket blasting off. We hope it will remind students to focus and stay on target on their path to success."
The bronze Mustang will be finished in a buckskin color. It will be anchored with concrete footing and a steel understructure. The total weight will be almost 3,000 pounds. "It's huge," Sterner said with a laugh. "I was stunned when I realized how big it would be."
Sterner's artwork can be found at SMSU and around Marshall. Two of his sculptures are featured on the SMSU campus, both drawing inspiration from Native American fancy dancing and beadwork. He also created the Mrs. Whitney statue near the curve in East College Drive heading west toward Main Street.
The Mustang is Sterner's largest project to date. "It was hard to find the right pose for the Mustang. We're used to either riding a horse or standing right next to it," said Sterner. "I had to visualize the horse from all 360 degrees."
Sterner studied the way the bones and muscles look beneath the horse, using a steel structure as a foundation, like a skeleton. "He was too skinny at first. Then we made him look like he was on steroids."
They selected the Anurag Art Foundry in Stillwater for the Mustang's bronze casting. But before he could make the trip, a minor disaster struck.
"The sculpture fell over, lost its legs, and broke its neck," Sterner said. It had to be reconstructed over the next three weeks in Stillwater. Despite the holdup, the project is on track.
Sterner lives halfway between Marshall and Cottonwood and is an adjunct art professor at SMSU as well as an art teacher and the head football coach at Lakeview High School in Cottonwood. "I don't have a studio, so I made it at Lakeview with help from the students. It was exciting to work on it every day."
Though it was a challenging project, Sterner is more than happy with the results.
"I feel blessed that I was chosen for the opportunity," he said. He is appreciative of the SMSU Foundation, the President's Cabinet, his Lakeview students, and Bill and Zack Cole at the Anurag Art Foundry for all their supporters during this important project.
— By Jessica Rockeman