Six to Receive Homecoming Alumni Awards
Published Thursday, September 17, 2015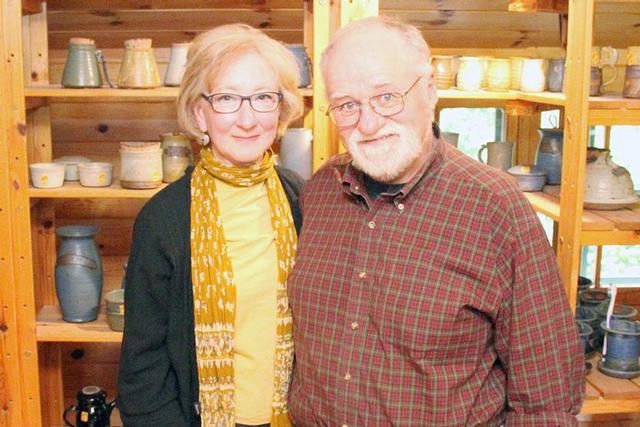 Gene and Lucy Tokheim
Five alumni and one retired professor will receive Alumni Association awards at  a Sept. 25 noon luncheon in the Conference Center Ballroom on the campus of Southwest Minnesota State University.
The event is part of Homecoming 2015, with a theme of "We Are Mustangs."
Alumni Achievement Awards are presented to alumni in recognition of professional success and the positive reflection made on the university and fellow alumni. Alumni Achievement Award recipients include Steve Baumann, '74, president and owner of Vexilar, a leader in the marine electronics field; Mark Diekmann, '83, who works for Paragon Dental Practice Transition and is a founder of Dogs and Cats of the Dominican Republic; and Gene '71 and Lucy '75 Tokheim, owners of Tokheim Stoneware near Dawson, Minn.
Honorary Membership Awards are presented to individuals who are not SMSU graduates, but who give their time, talent and enthusiasm to the university. The Honorary Lifetime Membership Award recipient this year is Mike McHugh, former Speech Communication: Radio-TV professor.
The Graduate of the Last Decade (GOLD) Award is presented to an individual who has distinguished him/herself in the last 10 years since graduating. Marri Carrow, '08, Regional Director for the Western Hemisphere at the U.S. Grains Council, is the 2015 GOLD Award recipient.
Steve Baumann
Steve Baumann has taken his 1974 mechanical Engineering degree to the top of the ice fishing world.
Steve is the president and owner of Vexilar, a marine electronics company known as the "Cadillac" of the ice-fishing world. Vexilar is simply the best.
Baumann first heard of the company while working part-time at BH Electronics while he was an SMSU student. "Funds were hard to come by back then," he said. "I got a night job there, and they were a sub-contractor. That's when I first heard of Vexilar."
Baumann earned his Mechanical Engineering degree from SMSU in 1974. He began with Vexilar in 1977, and has been with them 38 years.
He and a partner — who has since passed — had the opportunity to purchase Vexilar when it was going through bankruptcy. Today, ice fishing is 85 percent of Vexilar's business.
"We had heard about this sounder, people were going wild for it in the early '70s. We were in the summer market and hadn't considered ice fishing, but knew the company that was producing it in Japan."
That Japanese company opened an office in Florida during a down cycle in the fishing economy, but, said Baumann, "The concept of ice fishing was a difficult one for them to understand." The Japanese company got out, and Baumann and his partner saw a niche, "and we've been at it ever since. We are a leader in that small niche market."
The Japanese company manufactures the basic unit, "then we do the value-added and sales and marketing," said Baumann.
Vexilar employs about 20 during its peak season, he said. "We were alone in the market until about 1995, and since then we compete with all the major marine companies. The difference is they are never dedicated to the sport like we are as a main market. It's an afterthought for them. One thing we can do better than anyone is servicing our customers."
He grew up on a farm near Lamberton and chose SMSU because "it was close to home; I was the youngest and SMSU offered an opportunity to help out on the farm when needed in the fall." His sister, Kathy Johnson, is a 1971 Charter Class member.
He learned the business side of things slowly, and said that was one of his biggest challenges. "I had little business education, and I mean zero," he said. He persisted. And when his partner passed away, Baumann purchased his interest in the business.
Recent innovations include the Sonar Phone, a portable unit that turns a cell phone into a sonar unit, and the K-Drill, which allows ice fishermen to use a lithium-powered drill to bore holes instead of a bulky auger.
Baumann met his wife Robin (Carlson) while at SMSU, and was married after his sophomore year. They recently celebrated 43 years of marriage.
He lived in the old Movillas while at SMSU, and said he grew up fast. "Everything was up to you. You had to show up on time, get everything done yourself. We print a sign here in our (Vexilar) lunchroom, 'Clean up after yourself, your mother does not work here.'"
He said his time at SMSU laid the foundation for his professional life, and is honored to receive this Alumni Award today. "I am very humbled by the award," he said. "I recommend the college to people often."
Mark Diekmann
Mark Diekmann has led an interesting life since graduating from Southwest Minnesota State University in 1983.
Diekmann works for Paragon Dental Practice Transitions, based in Mississippi, a company that helps young dentists find an appropriate practice, or retiring dentists find potential practice buyers.
 He oversees all of the consultants in the northern United States. And he does so from his home in the Dominican Republic.
"We've been there fulltime now for six years," he said.
Diekmann and his wife Deborah are also world travelers, and have visited 45 countries. "We're a fourth of the way to visiting every country in the world," he said. Most recently they've traveled to the African nations of Ghana, Togo and Benin. His favorite so far? Nepal, with Botswana close behind.
Most recently, his energies have gone into the creation of Dogs and Cats of the Dominican Republic, a non-profit group dedicated to the health of animals on the northern coast of the Dominican Republic, where he lives.
"We have a bus that has been converted into a mobile spay and neuter clinic," he said. "We have volunteer veterinarians come down here and drive it into poor neighborhoods, and the Dominicans bring their animals to us. We spay and neuter them to keep the animal population under control.
"We also pick up and rescue needy street animals and help them find new homes. About every month we are sending 35 to 45 dogs and cats to either Canada or the U.S. to new forever homes."
The organization also has volunteers who go out and give flea and tick and parasite medicine to 2,000 dogs and cats each month. "We try to keep them healthy so they don't fall prey to common parasites we have down here."
When the Diekmanns moved to the Dominican Republic, they were struck by the number of stray animals. "There were dogs all over the place," he said. "They had health issues and were starving. We said that we were going to tackle it, and it's become our cause."
Diekmann graduated with Chemistry and Math degrees from SMSU. He went on to dental school at the University of Minnesota, where he met his wife. They practiced together in the Austin, Minn., area for 10 years before the profession lost some of its appeal. "I loved the business part of running a dental practice, but I didn't like the hands-on part, so I transitioned," he explained.
Diekmann looks back at his time at SMSU with fondness. "I guess my favorite part were the instructors, they were so friendly and I felt very close to them. I always felt I could go talk to them."
He mentioned Ed Carberry as one of the most influential professors during his SMSU years. "He made chemistry interesting and truly cared about me as a person," he said. He also mentioned Joe Van Wie in math, and Robert Eliason in chemistry.
"I'm honored by this award, and a bit surprised," he said. "I have always been proud of my affiliation with SMSU. I appreciate the fact that a dedicated group came together to form the college on the prairie. They all worked so hard to build a fantastic university.
Gene and Lucy Tokheim
It's not often that artists have branded their work as successfully as Gene and Lucy Tokheim. Say the words "Tokheim pottery" today, and you automatically think of the Scandinavian-inspired work that comes from their studio and gallery located in rural Dawson, Minnesota.
Gene is a Charter Class 1971 member, while Lucy (O'Laughlin) graduated in 1975. Together they own Tokheim Stoneware.
Gene began creating their wheel-thrown pottery in 1973, yet it wasn't until they started creating Scandinavian folk art pieces that their business took flight. They had found their artistic niche.
Gene creates each piece on a potter's wheel, and Lucy does the design work. Their individual talents mesh beautifully during the creative process. Gene also makes traditional Scandinavian knives, silver spoons and silver jewelry, while Lucy is a talented print maker and painter.
Their studio, located 6 miles east and 1 ½-miles north of Dawson, Minn., grew from a couple of reclaimed chicken houses. It is there that their functional and artistic pottery is made. And it is from their homey studio that their work has become famous, both regionally, and internationally.
Their work is part of the permanent collection of the Norwegian-American Vesterheim museum, and has traveled in several international exhibitions. It was featured in the book "Norwegian Folk Art, The Migration of a Tradition," in association with an exhibit at the New York Museum of Folk Art. Their work was available at the Smithsonian Institute's Museum Store during its "Vikings" exhibit.
They have studied Norwegian folk art at both the Vesterheim Museum in Decorah, Iowa, and at the Raulands Akademi in Telemark, Norway.
It was in the late 1970s that Gene began showing an interest in Scandinavian aspects incorporated into his pottery. The buying public liked what it saw. "It sent us on a direction, and we began looking at the whole realm of the form," he said. "lt was a growth period."
They studied Scandinavian folk art, "and that made a big difference," said Gene. They did a number of regional shows — big and small — while their work evolved and was refined. Finally, after several years, things began to take off for them commercially. Their work was in demand.
Artists have many influences during their lives, and the Tokheims are no different. Joseph Pizzat, Miriam Murphy, Ed Evans, Ralph Peotter and Gordon Dingman are mentioned as influences during their SMSU days.
The two met by chance in 1972 when Gene was salvaging brick in Morton for a handmade kiln. Lucy O'Laughlin happened to be there with some SMSU classmates to gather some of the same brick. She was charmed by the young potter, and thus began a lifetime of memories and accomplishments they've shared together.
The two create Tokheim Stoneware together, and find time individually for other artistic pursuits. It's an arrangement that works for the couple, who are the parents of three grown children: Sam, Luke and Ben.
Mike McHugh
Former Speech Communication: Radio-TV Professor Mike McHugh has helped launch many a successful television career over the years.
McHugh, who retired following the 2013-14 academic year, taught at SMSU for 24 years.
His National Broadcasting Society (NBS) chapter at the university was twice honored with National Chapter of the Year honors. McHugh was regional Advisor of the Year eight times and National Advisor of the Year two times.
He was very active with the National Broadcasting Society over the years. He was a regional director, vice president and was recently elected to the board of governors several months ago. "I'm continuing my passion of working in broadcasting and broadcasting education," he said.
He earned his undergraduate and master's in communications at Eastern Illinois University, then started out in the business before later moving into the classroom.
"I sort of fell into it," he said. "I saw an ad to fill in for someone on sabbatical at Northwest Missouri State and my wife Charlotte and I thought it would be a good idea to pursue it," he explained.
While at Arkansas State University, one of several teaching stops before coming to SMSU, he guided that NBS chapter to National Chapter of the Year honors, as well.
He is a former broadcaster himself in Illinois, Arkansas and Pennsylvania, and brought that real-life experience with him to the classroom.
"I think one of the best things about teaching is seeing the success of your students," he said. "We have had so many people go on to successful Emmy-winning careers from Southwest. They were talented to begin with, but they applied themselves and wanted to get better. I'm proud of their success."
McHugh is a Chicago native and was one of the original 'Bleacher Bums' at Wrigley Field in the '60s. He's a huge Cubs and Blackhawks fan who also enjoys reading and playing the guitar.
McHugh and his wife — the parents of two grown children — recently celebrated 40 years of marriage.
He estimates he was the executive producer for 2,200 news shows and 720 sporting events while at SMSU. "I liked the opportunity to work one-on-one with the students. It gave them the opportunity to be on the air, producing, writing, all of it. It's definitely hands-on at SMSU."
He's humbled by his Alumni Association award. "SMSU is a very special place, and to be recognized is very touching," he said.
Marri Carrow
As Marri Carrow will tell you, you can take the girl off the farm, but you can't take the farm out of the girl.
Carrow is the Regional Director for the Western Hemisphere at the U.S. Grains Council, a position she has held since 2014. Before that, she was the Director of Communications for the Grains Council from 2008 to 2014. She has also been communications assistant with the Minnesota Corn Growers.
The U.S. Grains Council develops export markets for U.S. barley, corn, grain sorghum and related products and believes exports are vital to global economic development and to U.S. agriculture's profitability.
Founded in 1960, the Council is a private, non-profit corporation with 10 international offices and programs in more than 50 countries.
In her position, Carrow interacts with "everyone from policy decision-makers, importers, feed mill manufacturers and those in food production," she said. "It's basically a public relations and promotions position," she explained.
She took advantage of study abroad opportunities in England, France and Belgium, which "got my feet wet and whetted my taste beds for the international lifestyle," she said.  That has helped her acclimate to her new home in Panama City, Panama, where, she said, "people work to live, rather than live to work, like they do in Washington, D.C."
The Daughter of Duane and the late Deb Carrow of Marshall, Carrow is on the road frequently as part of her position. "The global marketplace is becoming increasingly competitive," she said. "We have to market our competitive advantage, which is harder and harder every day."
And while she's adjusting to a different culture and learning more and more Spanish as time goes by, she feels people are the same. "The core things — family, community, faith — are the same all over," she said.
She took advantage of concurrent enrollment classes at Marshall High School and, after attending SMSU for a couple of years, transferred to Colorado State. After a year though, she was back at SMSU, where she earned a degree in Literature. As she has said, "After high school, I tried to leave the farm, but agriculture sucked me back in."
She grew up on a farm near Marshall and the work ethic she learned there is a big part of her success. She appreciates professors like Dave Pichaske and Jim Zarzana, and is an international advocate for SMSU.
"I feel really connected to Marshall and the rural community," she said. "What I do all comes back to family roots in agriculture."
Related Articles