Artaria String Quartet Plans Concerts
Published Tuesday, September 29, 2015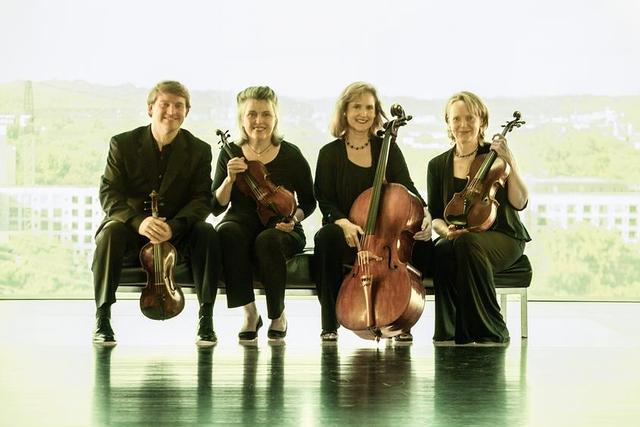 Artaria String Quartet
The Artaria String Quartet, a group of four talented musicians from the Twin Cities, plans several upcoming concerts in Marshall.
The quartet has begun a Marshall residency that includes a 7:30 p.m. concert on Monday, Oct. 5 in the Campus Religious Center at Southwest Minnesota State University. The concert is part of an on-going series of music in small spaces called "Prairiemusic."
Joining the quartet will be Dr. Daniel Rieppel, the director of the Southwest Minnesota Orchestra, on piano.
A special "Flash Concert" is scheduled for Tuesday, Oct. 6 at a time and place to be determined. For this concert, the quartet will show up somewhere in Marshall, unexpectedly, and play.
Also scheduled is a 6 p.m. concert on Tuesday, Oct. 20 at the Marshall-Lyon County Library, 201 C Street, in Marshall.
The final concert planned is a performance with the Southwest Minnesota Orchestra entitled "A Very English Affair" at 4 p.m. on Sunday, Oct. 25 in the Schwan Community Center for the Performing Arts at Marshall High School.
Admission is free for most performances with the exception of the SMO Concert on Oct. 25. Their residency is sponsored by the Southwest Minnesota Orchestra and the Minnesota State Arts Board.
For further information, call 507-537-7139 or e-mail Rieppel at: Daniel.Rieppel@smsu.edu.
Related Articles