Copland/Bernstein Festival Nov. 4-8 at SMSU
Published Thursday, October 08, 2015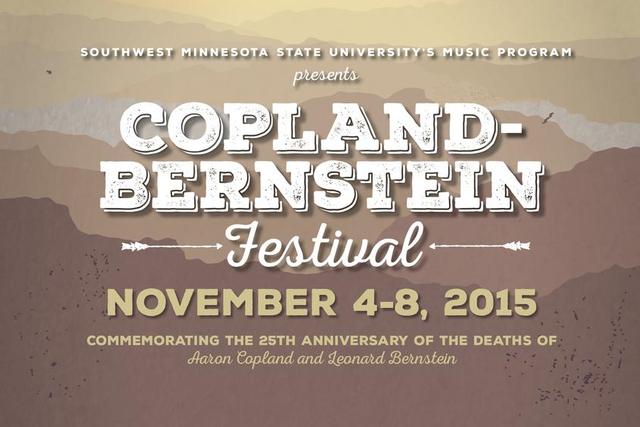 Copland-Bernstein Festival Graphic Image
A Copland/Bernstein Festival will be held from Nov. 4-8 at Southwest Minnesota State University.
Presented by the Music Program at SMSU, it will culminate Nov. 8 with a 4 p.m. concert at Holy Redeemer Catholic Church in Marshall featuring the SMSU/Community Concert Band, the Jazz Ensemble, the SMSU Chorale and the Southwest Minnesota Orchestra.
"This fall is the 25th anniversary of the deaths of both Aaron Copland and Leonard Bernstein," said Professor of Music Dr. John Ginocchio. event coordinator. "The two of them are probably the most significant American composers of the last 100 years, so we thought it an appropriate time to celebrate their contributions to music," he said.
The festival begins on Nov. 4 with a noon Voice Studio Class featuring vocal works of Copland and Bernstein in the Whipple Gallery.
On Nov. 5, Professor of Music Dan Rieppel will present "The Piano Variations of Aaron Copland: An Articulation of Friendship with Leonard Bernstein" at noon in Charter Hall 201. His presentation is part of the ongoing Faculty New Work programs by faculty members during the academic year.
Music faculty will conduct a panel discussion on the lives and music of Copland and Bernstein at a noon presentation Nov. 6 at the Marshall-Lyon County Library.
A chamber music concert featuring many of the program's adjunct instructors will be held at 7 p.m., Nov. 7 in the Fine Arts Theatre on campus.
The festival culminates with the Nov. 8 Grand Finale Concert, 4 p.m. at Holy Redeemer Church. The concert will feature the SMSU Jazz Ensemble, the SMSU/Community Concert Band, the SMSU Chorale and the Southwest Minnesota Orchestra. Works will include: Chichester Psalms by Bernstein and The Red Pony by Copland. Admission to the Finale Concert is $10.
Related Articles