Published
Monday, October 19, 2015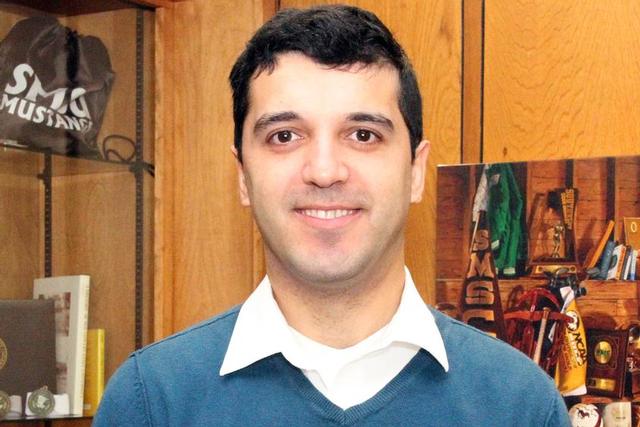 Erik Khzmalyan
"Even when I was in the sixth grade, I knew I wanted to be involved in politics."
That's how single-minded SMSU senior Erik Khzmalyan has been as he has pursued his career goals.
Khzmalyan is originally from Armenia, but and transferred to SMSU in the fall of 2014. He will graduate with a political science degree in December.
How he got from Armenia to Marshall, Minnesota is a combination of planning and chance.
When he was a high school senior in Armenia, he was selected by the U.S. government to be a full scholarship recipient in the Future Leaders Exchange Program. "There were over 1,000 Armenian students who applied, and they chose 40," said Khzmalyan. "It's a cultural exchange program for post-Soviet countries."
As a result, Khzmalyan ended up in Newport, Oregon, living with Lee and Kathleen Ritman for his senior year of high school. "It was a town about 10,000," he said. "My host family was great, they took care of me day in and day out. It expanded my horizons, and it exposed me to the educational system in the U.S. I went home with great memories."
He returned to Armenia for a year, then decided he'd like to attend college in the U.S. It was off to Glendale Community College in Los Angeles, Calif., for an AA degree in social sciences.
He tired of the hustle, bustle and noise of Los Angeles, however. "I wanted some place peaceful," he said. "I had lived in Oregon and California, so I was looking for an experience in the Midwest. I had some friends going to the University of Minnesota, so I went online and started looking for colleges and found SMSU.
"I had zero knowledge about Marshall. All I knew about Minnesota was the University of Minnesota, through my friends. I had heard the phrase "Minnesota nice," but I didn't know what it was. I learned my first day in the state."
He was supposed to catch a bus from the Minneapolis airport to Marshall, "but for some reason it didn't show up," he said. "I was there at the airport, and didn't know what to do. One of the bus drivers saw I was confused and approached me and offered his help. He drove me to the bus station, bought my ticket for me despite my objections and told me that someone had once done something good for him, and he was passing it forward. I was touched that a random stranger would do that."
From an early age, politics has intrigued him. "I've always wanted to be in a place where important decisions are made, and I always saw myself in politics. I'm interested in global affairs, how countries function — how they deal with each other — and international affairs."
He's especially appreciative of the faculty at SMSU. "The best part of the university are the professors," he said, mentioning Dr. David Sturrock, a political science professor and his advisor.  "I can go and talk to them whenever I want, they are available any time. They are here to assist you, and they're understanding and knowledgeable. They know you by your name."
By his own admission, "I'm in love with the (McFarland) Library," he said. "I spend a lot of time there. I can find anything I want, and it's a place I find peace of mind.:"
He interned last summer for the Armenian National Committee of America, a lobbying organization, and sees himself moving back to D.C. when he graduates. He is a fellow at the Eurasian Research Institute, a think tank based in Washington, D.C., where he writes articles related to Eurasian interests. He is also a contributing author for Armenite, an online periodical, where he writes about his experiences as an Armenian student studying in the U.S.
He's acclimated nicely to Midwest living, though moving from Los Angeles to Marshall meant learning again how brutal a winter can be. "It's cold in Armenia, but I had been in Los Angeles so it took some adjustment,' he said with a chuckle.
Khzmalyan isn't afraid to take a chance. Much of his recent academic career has been based on taking chances. He knows it has worked out at SMSU.
"It was one of the quickest and best decisions I've ever made," he said.