Phil Dacey: The Godfather
Published Friday, October 23, 2015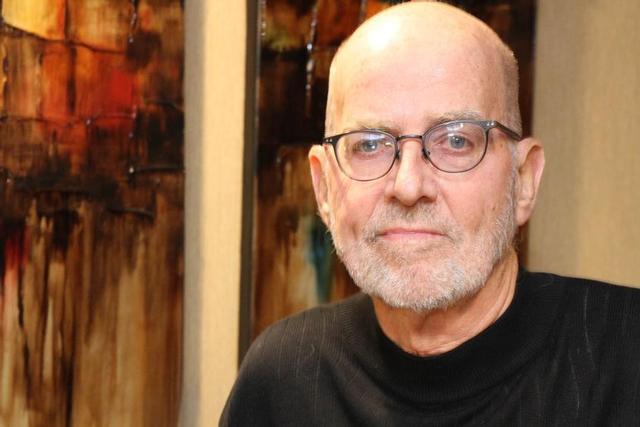 Phil Dacey
The Godfather of Marshall Festivals. How else would you describe Phil Dacey?
The poet, former SMSU English professor and originator of Marshall Festivals gave a rare public reading on Friday, Oct. 23, at the "Marshall Festival '15: What Feeds Us" event.
Dacey was at SMSU from 1970 until 2005, when he retired and moved to Manhattan's Upper West Side. He returned to Minnesota in 2012, where he lives with his partner, poet Alixa Doom, in Minneapolis. He is the father of three grown children: Austin, Emmett and Fay.
Dacey organized the first Marshall Festival back in 1986. The recently-concluded event was the eighth, and they are held every five years or so.
"That first one was five days, and there were overlapping events," he said. "And it was done without email," he added, eyes widening, as if all that statement implies just hit him. "It took a couple of years to pull together. All we had was mail and the telephone."
He didn't write poetry until in his 20s, after dropping out of graduate school at Stanford. "It was as if an angel came to me, tapped me on the shoulder and said 'Philip, you need some help. Sit down and write.'"
He's written 13 books of poetry, co-edited a book about contemporary American poetry and has lived life fully, on his own terms, and in his own voice.
He firmly believes there's no such thing as writer's block. "Write whatever comes to mind," he said. "Write as regularly as you can. And don't wait until you're inspired," he said.
Many people struggle with poetry — writing, and reading. "Some poetry uses language that's not conventional," he said. "It can lead one into areas of human nature that are uncomfortable. It's an art."
And Dacey is an artist. He's a self-effacing individual who has overcome so much recently. He has undergone treatment for leukemia in the last year, which is in remission. "I had chemotherapy, and then had an experimental treatment at the University of Minnesota, where they transplanted some of my son's 'killer cells' in me. So far it's proven to be a success, it's in remission, though there's a hint of leukemia lurking in the shadows. I feel terrific now though, I run or bike around Lake Calhoun, I take no meds, and take Chinese herbs."
A St. Louis native, he has come to love Marshall and Minnesota. He thoroughly enjoyed his time in New York, also. "My mother was born there, and we'd get on the Greyhound bus every year for about 10 years and visit family there. It's a very livable city. And it may seem like a bit of a paradox, but I tell people it's a good place to live, but not a good place to visit."
He loves the camaraderie and spirit of the Marshall Festivals, the feel-good atmosphere. "There's no competition, and it has a community feel. It's rare, too, to have these festivals in a rural setting."
What kept him at SMSU? "I had the opportunity to influence students in poetry and literature," he said. "Everyone can't be a professional writer, but I still hope the students' time with me gave them an appreciation and openness to the arts, a new point of view toward language and what language can offer."
He's humbled by the fact that Marshall Festival continues today. "Marianne (Zarzana) has done a great job with this one, and I'm grateful that the college has continued with Marshall Festival. "
He has many memoirs of past Marshall Festivals. One of his favorites is of the late Eugene McCarthy, former Minnesota senator who three times sought the Democratic nomination for president.
"He loved poetry, and called me and asked if I'd like for him to give a presentation on Yates," said Dacey. "For an hour, he recited poem after poem. (The late SMSU English Professor) Bill Holm came walking down the aisle, tears in his eyes, and said 'He could have been our president!'"
Dacey, now 76, doesn't think his poetry over time has matured, but it has changed. He came from a working-class background, and approaches his craft the same way. He sits down and writes. "Comic poems, free verse, formal, sonnets. I write them all," he said. "I didn't want to be known for just one type."
He doesn't make it back to Marshall that often — the last time was in 2010, at Marshall Festival '10.
"But I still call the Midwest home. I may feel at home in New York, but the Midwest is my home."
Related Articles