Olson is Chief Human Resources & Affirmative Action Officer
Published Wednesday, October 28, 2015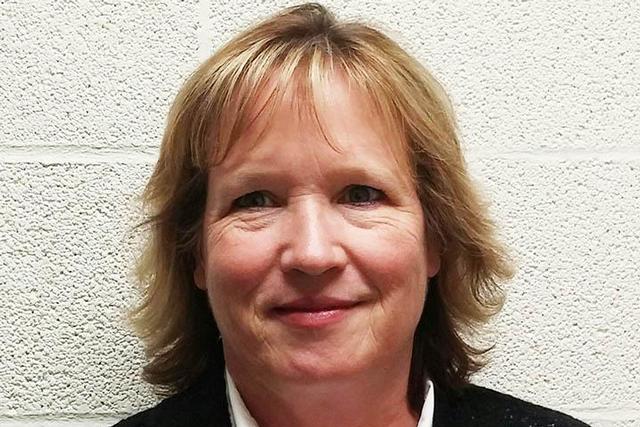 Nancy Olson
Story by Jessica Rockeman
Office of Communications and Marketing, SMSU
"As with any new position, there's a learning curve," says Southwest Minnesota State University's new Chief Human Resources and Affirmative Action Officer, Nancy Olson. "But I'm excited to be here." Olson officially began her position Sept. 14, 2015. She follows Deb Almer, who retired from the position after 28 years.
Olson was born and raised in Deer River, Minn. She moved to Marshall from Laramie, Wyo., where she worked at the University of Wyoming in the Human Resources department since April 1999. Her daughter has come with her to start her junior year at Marshall High School. Her husband will join them in Marshall soon. Olson's son has just started his freshman year at the University of Wyoming.
Olson received her bachelor's degree in management at Wyoming. She earned her Master's in Organizational Management with an emphasis in Human Resources at Ashford University in Clinton, Iowa in 2011.
Before her position at Wyoming, Olson worked at a bank. Her position there was multifaceted. "I did some HR work in that position, but my first true HR job was with Wyoming."
Though she's new to the area, Olson has good friends in Marshall. She's confident in her choice to be at SMSU. "When I came on campus, I loved the atmosphere," she says. "The sense of community here impressed me."
Before starting the position, Olson got three weeks of transition time with Almer. "Having that transition time was critical and beneficial," she says. "I also want to give credit to Joan [Tutt] and Barb [Okrina] here, because they're amazing with everything that they do."
Olson's position includes working with and prepping search committees from beginning to end as well as getting new employees set up with benefits. "It involves the whole employee life cycle from hiring to retiring," she says. The department also deals with other needs that may arise with employees, like further training.
"The department is here as a resource for the campus," says Olson. "We're here to help. We encourage people to contact us, and if we don't have the answer, we'll get the answer."
Related Articles