Adam Henning Looks Forward to a Better Life
Published
Wednesday, November 04, 2015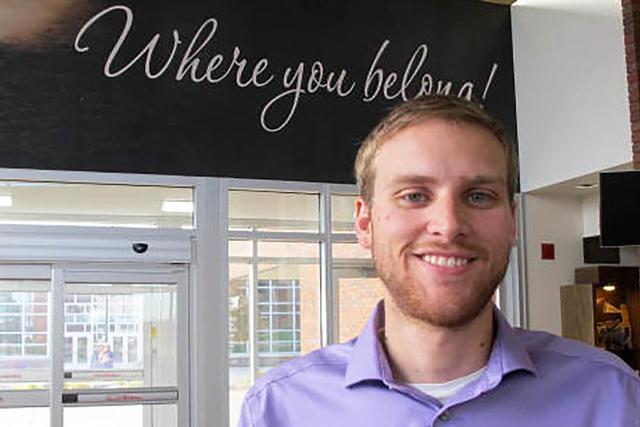 Adam Henning
It's not the way Adam Henning wanted to propose.
"Originally, I wanted to go to the falls in Sioux Falls, but I couldn't walk that day. We went to Pipestone. I thought maybe the waterfall in Pipestone could be a mini version, but it turned out to be anticlimactic," he said. "I didn't do it there either. I had things set up and in my trunk, two shadow boxes. One had pictures and memories of the past four years, and the other was empty and going to be our future memories.
"I finally did it at the kitchen table. I couldn't get down on a knee because my feet were swollen."
It may not have been the proposal that Henning planned, but Greta Evink, a 2013 alumna, said yes on April 25 of this year. They will be married June 11, 2016.
Henning is the head women's tennis coach and assistant director of athletic development, marketing and communications at SMSU. He received both his undergraduate and master's degrees from SMSU. He worked for a year as the city's cable access coordinator before taking his present position at the University.
A rare condition called Ulcerative Colitis, a form of Inflammatory Bowel Disease, necessitates the removal of his large intestine. "Ninety-five percent they will take out," he said in an interview before the surgery. "The ileum is at the end of the small intestine, they will make a cut and pop that out of the abdominal wall, two inches to the right of my belly button, and I'll have a ileostomy bag the rest of my life," he said. The surgery occurred on Nov. 5.
The Brooklyn, Iowa, native followed in the footsteps of his father, John, who received an engineering degree from SMSU. "I wanted to get out of my small town, and start somewhere fresh. SMSU seemed like a good fit."
Henning first felt something was wrong after a Winona State tennis match on Feb. 20, 2015. "On the way back from the restaurant to the hotel my right foot ballooned to two or three times its normal size. I couldn't walk. I went to the emergency room that night. They were nervous, they thought it was a clot so did an ultrasound, and saw that it wasn't a clot. They gave me steroids and told me the swelling should go down in 48 hours."
The swelling did go down, but a week later the same thing happened to his left foot. That led to more tests, more referrals, more specialists, and a realization that something just wasn't right. Finally, a Sanford Health (Sioux Falls) gastroenterologist diagnosed the condition.
Though he knows the surgery will alter his life forever, Henning is still grateful that he'll no longer be held captive by it on a daily basis  The condition makes him go to the rest room often. "I go every two hours, and when it comes over me, I have 10 to 15 seconds," he said.
"I don't stray from my normal routine," he said. "I am comfortable at work, at my house and in church. I don't have a social life anymore, I can't go out. When I go places, I have anxiety."
As if things aren't bad enough health-wise, during this process Henning was diagnosed with Primary Sclerosing Cholangitis, a disease that causes inflammation of the liver's bile ducts. The disease ultimately causes liver failure. "The doctor told me I potentially will have to have a liver transplant within 10 years," he said.
Henning said the conditions aren't genetic, and he's wracked his brain wondering what has caused things to progress to this point. "I've gotten past the emotional stage," he said matter-of-faculty three days before his surgery. "When the gastroenterologist, Dr. Jorge Gilbert, declared that my medical treatment was a failure, and surgery was the only option, I sat in his office crying. This past week I met with the surgeon, and I was upbeat. I'm excited to get my life back is the way I've come to look at it."
A 'gofundme' account has been set up to help defray Henning's medical bills. "I'm covered now through the University, but before that I was on my parents' insurance and racked up a lot of bills," he said.
The web address to donate is: https://www.gofundme.com/yk72vtzw
Henning, 35 pounds lighter than his normal 210 pounds, will be in the hospital for four days after the surgery, he said. It's been a long and difficult year for him, but he also looks forward to living life more on his terms.
And watching his future bride Greta walk down the aisle.