Leader of the Mustang Maniacs
Published Wednesday, November 04, 2015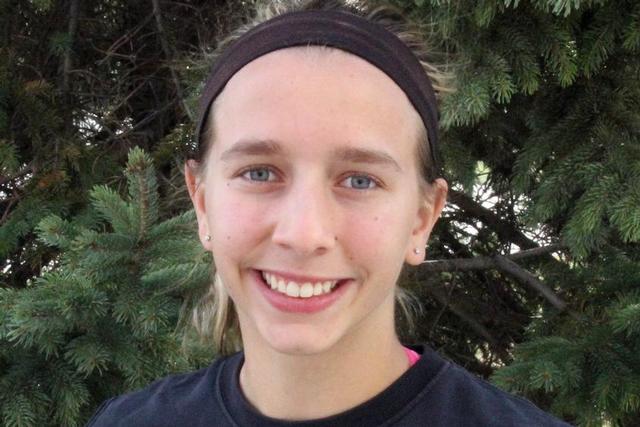 Jen Keohen
Jen Keohen's enthusiasm is contagious.
The SMSU sophomore is president of the Mustang Maniacs, a group of Mustang-crazy fans whose job it is "to chant, scream, yell and bring the energy up. We're all excited to be there, to support our teams."
Keohen is a marketing major and Spanish minor who took post secondary option classes at her high school, Shakopee Area Catholic School. She's on the Mustang track and cross country teams, and is involved with theatre, also.
She's been a marketer of sorts for much of her life. "I sold lemonade on the street," she explained. "I like entertainment. I see myself working for a professional sports team or a big entertainment group, or in sales. I do sell myself, you have to promote yourself and represent what you've done, and what you want to do."
Keohen is front and center at the Mustang sporting events, normally attired in her trademark brown and gold bib overalls and crazy hair. As president of the Mustang Maniacs, she leads by example, and the student group's enthusiasm is contagious throughout the various Mustang venues.
"We want the Maniacs to be engaged, to step out of their comfort zone and let loose," she said. "As long as they are going to come (to the games), why not come with a little face paint, or a sign? "
She's taking 18 credits this semester, and has a very regimented schedule. "I go to school all day, go to practice, shower, eat, do homework about 9:30, then to bed, and do it again the next day. It was easier in high school, we had open hours, and then college came and I became involved in everything." She recently finished the play "The Crucible," where she had the part of Mary Warren.
Keohen participates in cross country and runs the 5k and 10k on the track team. She was recruited by former coach Nate Wolf. When he left for Dordt College, it surprised a lot of team members, "but coach (Dan) Allen has stepped up and shown us what the team can be. We are like a second family."
She's already registered for the next Grandma's Marathon, and loves nothing more than to go out for a long run. She is a fan of all things Disney, and has a real appreciation for Camden State Park.
She feels that SMSU has been a good fit for her "because I can be myself, and all groups are so open to who you are." And after an initial adjustment period — "I was homesick and cried for three weeks, everyone was faster than me" — she has settled into a university community where she feels welcomed and free to let her personality shine through. "I feel more mature already, and I don't need that time to discover who I am," she said.
The daughter of Mary Kaye and Kevin Keohen, she has come to realize that the academic challenges and supportive environment at SMSU are just what she needs at this point in her life. "Coming here has been good for me," she said.
Related Articles