Student Body President Leads On the Field and Off
Published Monday, November 23, 2015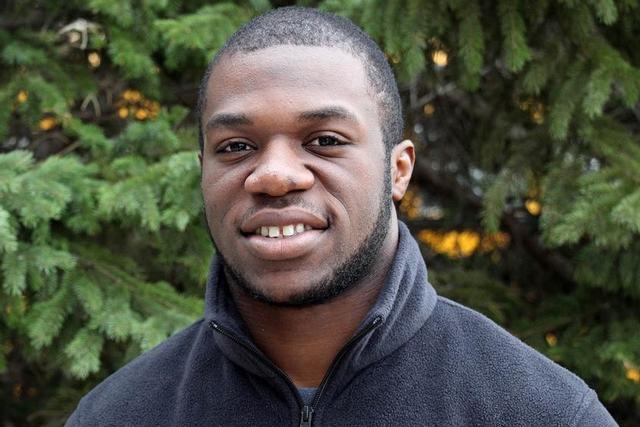 Ashanti Payne
The student body president at SMSU is a leader on campus, and on the football field.
Ashanti Payne, a junior exercise science major, is in his first year as student body president. In fact, becoming involved with student government as a freshman was one of the first things he did when he arrived.
"I was involved with the Summer Bridge program," he explained of the summer program that helps prepare first-generation and income-eligible students for college success. "(Office of Diversity and Inclusion Director) Jefferson Lee has been a great advisor for me, and one of the questions he asked me was, 'What are you doing now?' I told him playing football and going to school. He was like, 'Other than that?' and I said that's it.
"He told me you can always find more time to do things, and he encouraged me to stand out. Ironically at that time I had received an email from our past student body president, Josh Anderson, and he told me there were some senate openings, and asked if I might be interested. (Jefferson Lee) encouraged me, he told me to just do it and if I didn't like it, then I didn't like it."
Turns out, he liked it. He was a senator for two years before running for president, and last year was president of the Black Student Union, too. "I enjoyed my experiences as a senator, and last year I really grew into that leadership role, that part of my personality grew. I was the student affairs chair, and put on events that connected with students. One of my favorites was Student Suggestion Day. We put suggestion boxes around campus, and part of my job was to collect them. We didn't get many though. We decided to do some tabling, and had suggestion cards there and gave a piece of candy for those who participated. We got a lot of feedback, and felt the students had a voice. That's important to me in my role now, that students have that voice, and get more involved.
"Student government has a lot of influence. I was hesitant at first, being a student athlete. I didn't know if I could handle that load. (Last year's president) Rachael Posusta encouraged me, and my coaches have been very supportive, too."
How's it been going as president, perception versus reality? "Almost better than what I thought," he said. "I had a learning curve, but I've also got a lot of support from the administration, especially President (Connie) Gores and Provost (Dwight) Watson."
Payne is a Minneapolis native who was recruited to play football out of Robbinsdale Cooper High School. "The offense at SMSU was similar to Cooper's, a spread offense," he said. "I was told I would be pushed, so the best of me was able to come out. I knew that they've had good backs in the past, and wanted to continue that tradition. It was a good fit for me."
Payne's eyes light up when he talks about the Mustangs' turnaround this season — from 4-8 in 2014 to 8-4 this year. "The eight wins didn't start in the fall. That started right after last year. That was a sour taste and we had months to think about it. We lost a lot of guys (to graduation) and we were sitting around a meeting room after the season and we saw how thin we were. The coach said, 'This is who we have.' We vowed never to have that taste in our mouths again, and everyone put in the work. You build chemistry in the spring and summer. That camaraderie, that brotherhood is the strongest it's been since I've been here."
Payne was a big contributor to that success, rushing for 771 yards and five touchdowns this past season.
His favorite memories are of the first game, and the last. "We won the Minot State game by a point. We battled, we were relentless, and everyone felt we were not going to lose. That was a deciding game in how the season went. The year before, we lost to Mary by a point to start the year.
"This last game versus Winona, for the Sledgehammer, was special to all of us because we are a part of history (the first Mustang 8-win season since moving to NCAA Division II). I'll be able to say I was a part of that, and it was great for our seniors."
He is an exercise science major, with an emphasis in corporate wellness and exercise leadership. Payne wants to find a good job once he graduates in a year, more than likely in the Twin Cities area, where he has a lot of family. "I am thinking athletic enhancements — working with athletes to make them bigger, faster and stronger," he said. "Maybe coaching, too."
In his role as student body president, he is busy representing the students at various functions and events. He's a familiar face on campus. "Everyone is connected here," he said. "It's easy to get involved in things, and easy to get to know people. I like being able to walk into a professor's office and talk. You don't see that in many places."
Leadership has come naturally for Payne, and a gentle nudge by a trusted mentor in the right direction got him started. "Sometimes you need to try things," he said. "You never know."
Related Articles