Undergraduate Research Conference a Huge Success
Published Thursday, December 03, 2015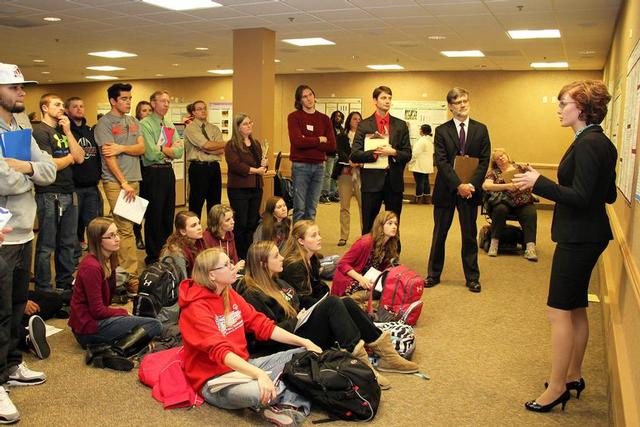 Undergraduate Research Conference
A record number of students participated in the recently completed Undergraduate Research Conference, held on campus on Dec. 2.
A total of 293 students participated in the event, 15 percent of the undergraduate students at the university.
"The day was a huge success. Several people mentioned to me that the quality of the presentations gets better every year, which I have seen as well," said Dr. Emily Deader, Environmental Science Professor.
Deaver started the conference 10 years ago, back when it only consisted of undergraduate work in the sciences. Since then, it  has spread across campus. This year, 19 academic areas were represented.
Projects ran the gamut, and were either oral (PowerPoint) or poster presentations. "We had an incredible range of projects, and many of those projects had some local or regional connection," said Deaver. "Not only did we have the special session on the Migrant Voices project, but many of the Political Science students and some of the History students did projects focused on local and regional issues as well."
Library Research Award winners included Tiffany Gehl, Exercise Science, poster, "Diet and Body Composition of SMSU Women's Basketball Team" and Rebecca Sommer, Biology, oral presentation, "Small Interfering RNA as the Silver Bullet for Cancer."
"It was an incredibly exciting and energizing day," continued Deaver. "I am so proud of all the hard work that the students do, and grateful that we have so many faculty willing to put in the extra time and effort it takes to help students be successful in completing their projects."
Related Articles