Helping Students Refine Interviewing Skills
Published Tuesday, December 08, 2015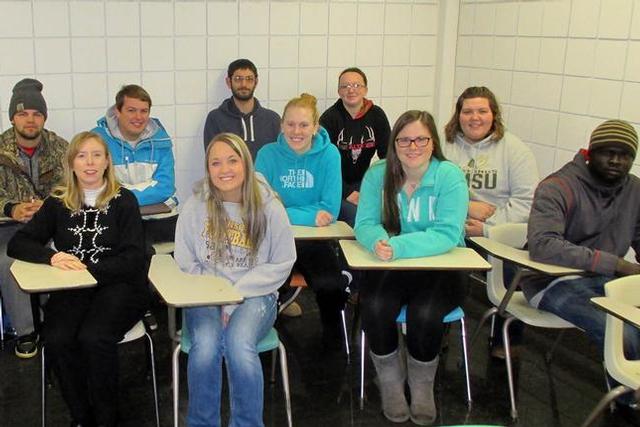 BC Franson's Police and Corrections Management Class
Now is the time that most seniors have begun the search for that elusive first job. 
To help that process, BC Franson, Associate Professor of Justice Administration, recently held mock interviews with students in her Court, Police and Corrections Management class.
The idea to begin interviewing students came after discussing management with students who had never been through a formal interview themselves.  "It seemed like putting the cart before the horse," said Franson. "The students submitted a cover letter and resume for a corrections agent job, then signed up for individual interview times."
There are 18 students in the class, and their experience with formal interview sessions varies broadly. One of the students had already interviewed three times for jobs in Minnesota and other states. Most, however, have never had a formal interview before.
Franson and one other person — either Library E-Resources Manager Mara Wiggins, Professor of History Dr. Jeff Kolnick or Office of Diversity and Inclusion Director Jefferson Lee — assisted during the interviews. The second interviewer varied based on availability. The point was to have an element of surprise for the students interviewing, since they already know Franson.
Immediately after the interview, questions were asked, and both Franson and the second interviewer gave the students immediate feedback on how they answered the questions and how they presented themselves.
The students all said that receiving immediate feedback was really helpful and will serve them well in the future. "We were able, for instance, to suggest a way to say something differently," said Franson. "Sometimes the employer might want to hear a specific answer, but there are other ways it can be presented."
One of the class participants said, "It's the best thing I've done in college. I've never interviewed before, and the input has been valuable."
Each student received a written critique after their interview, as well as feedback on their resume and cover letter.  The critique is helpful as students near graduation and arrange interviews on their own — it gives them something to go over as they prepare.
Franson told the students it's important to have good questions for their interviewers
when called upon to ask them. Not many in the class knew that before.
Past experiences should also be highlighted on a resume — all past experiences. "Say you're stocking shelves at Menards, that skill can be shown to be beneficial to the job you are applying for as organizational skills and attention to detail," said Franson.
The students in Franson's class were all enthusiastic about the interviewing skills they learned during the mock interviews. "I've interviewed in front of nine people, and I wasn't as nervous as I was for this interview," said one of the students.
Students mentioned how they were focused on getting a good grade, so the stress was different from a 'real' job interview, said Franson.
 "The entire interview process — from cover letter to resume to the actual interview — is so important," said Franson. "We've tried to give them a real-life interview situation, and help them as they move forward with seeking employment."
Related Articles