Alumnus Garrett Conn's Excellent Adventure
Published Friday, December 11, 2015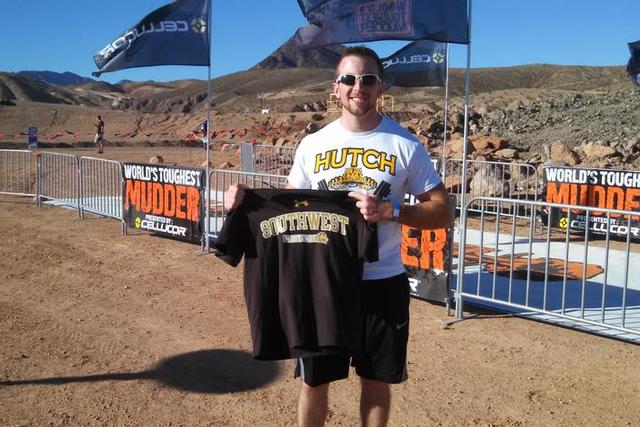 Garrett Conn
SMSU alumnus Garrett Conn credits his exercise science degree for "the experience of a lifetime."
Conn, a 2015 alumnus, is the strength and conditioning coach at his hometown high school in Hutchinson, Minn. It is there that he was asked to be a part of a five-person "pit crew" that supported a team of four people competing in the World's Toughest Mudder competition.
By now you've probably heard of mudder competitions, those crazy endurance tests that are a combination of running and crazy obstacles that test the fitness, and mental toughness, of participants. "A Tough Mudder is usually 10-12 miles," explained Conn. "They have about 28 obstacles on it, and they are held in most states. The World's Toughest Mudder is run for 24 hours, continuously."
The World's Toughest Mudder competition was held on a 5-mile course near Lake Las Vegas, just outside of the city, on Nov. 14-15. Teams and individual competitors had 24 hours to complete as many miles as they could around the course, which featured crawling under barbed wire and through water electrified by car batteries, and a 40-foot drop into water, to name but a few. There were a lot of water obstacles in this particular course.
 "It started at 2 p.m., and went until 2 p.m. the next day," explained Conn.
His team was called Get Bizzy and consisted of two competitors from New Brighton, and one each from Hutchinson and Minneapolis. "I knew someone in the pit crew and they said the racers mentioned they wanted someone with some insight into nutrition and training, that they wanted input from a science perspective," he said. "I was contacted to see if I'd e interested, and I said yes immediately."
The team rules for the event are simple: All four must run together, and if one is injured, in order to continue competing as a team, the injured person had to be carried throughout the rest of the competition, said Conn.
"I saw a competitor from Germany break his ankle. His wife asked him to stop, but he told her he had 45 miles already, that he came all the way from Germany, and he wanted to get to 50 miles. He walked the final lap."
The pit crew was for support, he continued. "We all had individual jobs, and we also worked together," he said. "We helped them with their equipment (primarily clothing). For instance, they'd wear several pairs of shoes, pants, wet suits, things like that.
"I was in charge of food and meals. I wrote a meal plan, so that when they came in after every lap we knew what we were going to feed them."
The biggest pit crew responsibility, and the most important, he said, was "keeping them warm. When it gets to be 4 a.m., it's 30 degrees outside and they're going into water that's extremely cold. We kept them as functional a we could."
Race strategy, too, was part of his responsibility. "Keeping tabs on the other team, race positioning. I ran throughout the course and told them when they should pick it up or lay off. The crew could communicate with each other electronically, but the racers could not.
 "My exercise science degree helped with insights regarding nutrition during the race. It also helped during the race, when they were doing obstacles. I'd watch and come up with different ways how they could do the obstacles — use their feet more, things like that, a biomechanical perspective so they could compete more efficiently as they got tired."
And tired they got. "Oh yeah, they got goofy near the end," he said. "It took place in a desert, with a swing of temperature. The course was 850 feet up and down. The sleep deprivation takes a toll. Towards the end, when the sun was coming up and they'd gone 20 miles, they'd slur their words, you couldn't understand what they were saying. Sometimes they'd lose direction. It was honestly the most intense and insane obstacles and toughest course I have ever seen."
Get Bizzy finished sixth overall, and completed 45 miles. A team from Canada won it with 80 miles. During the event, Conn said he put on 35 miles himself, running here and there, keeping tabs on his team members and helping with strategy.
What did he take away from the experience? "The amount of amazing people there. There's a huge camaraderie aspect to mudder races, and even though you are competing against others, if you see a person struggle, you help them through it. I also was amazed by the sheer determination, and what the human body can do. Finally, the friends I made. It attracts competitors from all over the globe — Germany, Switzerland, Denmark, France, Canada. I met a lot of people, and they are my friends now."
Related Articles