Host of MLK Events Planned Jan. 11-21
Published
Thursday, December 31, 2015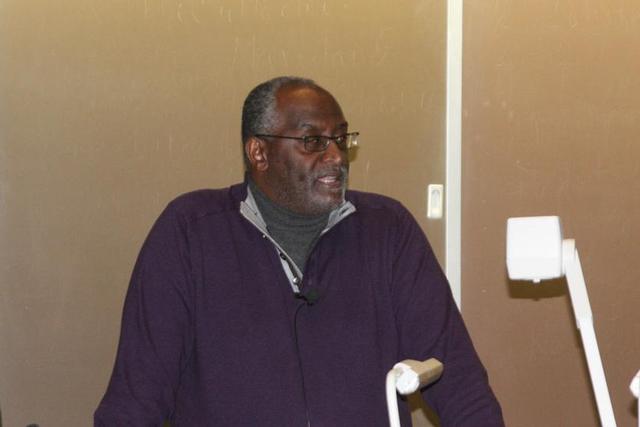 Dr. Rickey Hill will be part of a panel discussion on Jan. 13 following the showing of "Selma."
The Office of Diversity and Inclusion at Southwest Minnesota State University will host a number of Martin Luther King, Jr. events from Jan. 11-21. They are being held to celebrate the life and legacy of the Civil Rights icon.
The MLK Breakfast and Day of Service will be Monday, Jan. 18 from 7 a.m. to 9:30 a.m. in Conference Center Ballroom. The program will include comments from SMSU personnel and community leaders, including President Connie J. Gores, a performance by singer/songwriter Kimberly Brown of Minneapolis, and a viewing of the General Mills Foundation- and United Negro College Fund-sponsored broadcast of The MLK Breakfast at the Minneapolis Convention Center.
The broadcast features Massachusetts Gov. Deval Patrick, and Dr. Michael L. Lomax, president and chief executive officer of the United Negro College Fund. Following the broadcast will be a community discussion panel and a service-learning project with Food4Kids. Panelists include President Connie J. Gores, Mayor Bob Byrnes, student body president Ashanti Payne and Psychology Professor Dr. Christine Olson. Provost Dr. Dwight Watson will be the moderator.
The breakfast is free and open to the public. Registration is encouraged to allow for ordering the appropriate amount of food. To register, call 507-537-7304 or visit www.smsu.edu/administration/diversityinclusion.
Other events during the MLK celebration include a volunteer and service fair, a movie screening, speakers, a concert, performances and storytelling.
Events kick off on Monday, Jan. 11 with a Volunteer and Service Fair at the Marshall YMCA from 11:30 a.m. until 12:30 p.m. The Volunteer and Services Fair is an opportunity for the community to receive information about volunteer and services opportunities available within the Marshall community.
On Wednesday, Jan. 13, a viewing of the movie "Selma" and a discussion panel will take place at 6:30 p.m. in the Conference Center Lower Ballroom. Directed by Ava DuVernay, "Selma" tells the story of Civil Rights leader and visionary Dr. Martin Luther King, Jr. and his journey to gain equal rights in the midst of racism and discrimination in the south during the 1960s.
A panel discussion will follow the movie, and will include Dr. Rickey Hill, chair and professor of the Department of Political Science at Jackson State University, Mississippi, and Charles McDew, Civil Rights activist who participated in the founding of the Student Non-Violent Coordinating Committee in 1960 and the second chairperson of the Student Non-Violent Coordinating Committee.
Professor of History Dr. Jeff Kolnick will be the moderator.
Students from SMSU, SMSU Upward Bound and Marshall High School Cultures United program will transform themselves into pivotal leaders of the Civil Rights Movement of the 1960s at "Who am I?" on Thurs., Jan. 14 at 6 p.m. in the Conference Center Lower Ballroom. Students will dress up as various Civil Rights leaders and perform short monologues.
Kimberly Brown will be performing at the Schwan Community Center for the Performing Arts at the Marshall High School on Friday, Jan. 15 beginning at 7 p.m.
As a member of the famed group "Sounds of Blackness" for 15 years, Brown toured the world and enjoyed success as a Grammy Award winner. She has worked with many national artists, including Stevie Wonder, Quincy Jones, Kenny G, Luther Vandross and Darryl Hall. Currently, she is the Director of Music Ministries at her local church, First Trinity Church of God in Christ in St. Paul, Minn., and of the local choir for the Minnesota Second Ecclesiastical Fellowship, Church of God in Christ.
Storyteller Nothando Zulu will perform at the Marshall-Lyon Public Library at 6:30 p.m. on Thursday, Jan. 21.
Years of performance earned Zulu the distinguished title of a Master Storyteller, and her skill and technique shines clearly as she captivates audiences. Born and raised in Virginia, her stories bear witness to her rural, southern background. Zulu is president and director of Black Storytellers Alliance, a nonprofit organization dedicated to maintaining the oral storytelling tradition as practiced by African people in the Diaspora.
The events are sponsored by the SMSU Center for Civic Engagement; Office of Diversity and Inclusion; Access, Opportunity Success; Marshall Community Services; Marshall Area Chamber of Commerce; United Way; Western Community Action; Marshall-Lyon County Library; Marshall Area YMCA; Friends of the Library; and Marshall Hy-Vee.
For further information contact Cassie William at Cassie.Williams@smsu.edu or Jefferson Lee at Jay.lee@smsu.edu; 507-537-7304.