Four Professors Helping Students Learn English
Published Friday, January 15, 2016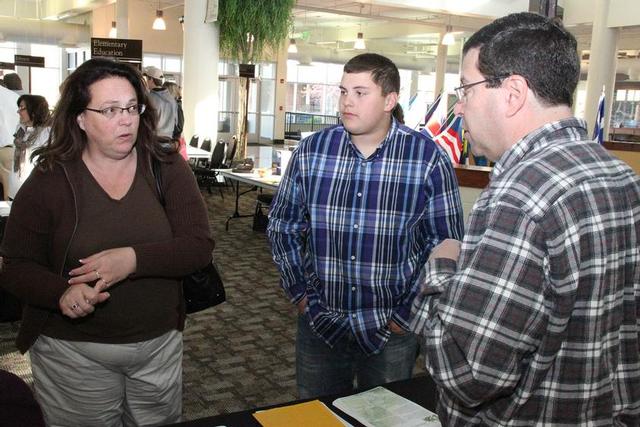 Dr. Jeff Kolnick speaks with potential students at a Mustang visit day.
Mustangs Making a Difference
 "You have no idea how much it means to the kids. By committing a few hours a week, they are changing lives."
That's how Marshall High School English Language (EL) teacher Vicki Radloff feels about four SMSU faculty members who are helping students better understand and speak English.
"It was formerly called English as a Second Language (ESL)," Radloff explained of the English Language curriculum.
The four SMSU volunteers include Professor of History Dr. Jeff Kolnick; Associate Professor of Sociology Dr. Kerry Livingston; Professor of History Dr. Joan Gittens; and Professor of History Dr. Tom Williford.
"They read with our students, and help with anything we have going. They are  volunteers in the classroom," said Radloff.
"Sometimes it's just us talking. I have two students who have fulltime jobs and they wanted to quit. Tom (Williford) talked to them, and encouraged them to keep coming to school."
Radloff appreciates the connections that have been formed between SMSU and Marshall High School. She annually comes and speaks to Education majors about working with EL students, and many SMSU students do their practicums with her at MHS. "It's really a nice combination," she said.
She is especially happy to have experienced educators like Kolnick, Livingston, Gittens and Williford volunteer their time each week. "They're very good with the students," she said. "I'm very grateful for what they've done to help the students learn English."
This is the first in an intermittent series about SMSU faculty, staff and students who are making a difference outside the classroom. Do you have a Mustangs Making a Difference nomination? Contact the Office of Communications and Marketing; 537-6256; Jim.Tate@smsu.edu.
Related Articles