Scholarships Make a Difference for SMSU Students
Published
Thursday, January 28, 2016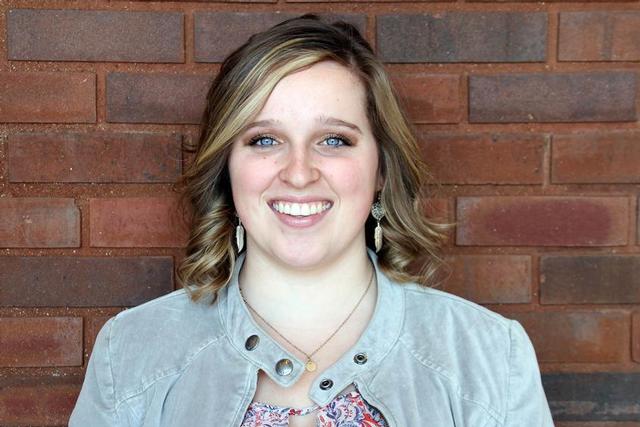 Samantha Pardy
How important are scholarships to students?
"Without them, I don't know if I would be able to go to college," said SMSU sophomore Samantha Pardy, a hospitality management major and business minor.
Pardy is a Madison, S.D., native, the fifth of six children in the Dan and Teresa Pardy family. A self-professed "foodie," she selected SMSU because of its Culinology program. "I changed my major to hospitality management, and loved SMSU so much I knew I wanted to stay," she said.
Pardy grew up loving food. "Cooking, baking, eating," she said. "Food is my passion."
She is the recipient of a trio of scholarships — the Buuck Family Foundation Presidential Scholarship, the Trio Scholarship and the Leadership Award.
 "Without those, it would be nearly impossible for me to afford college. They also give me the drive to do better in class, because you have to keep a certain grade-point-average to keep those scholarships. The scholarships are progressive, too — you receive more each year — so that's great incentive."
Pardy was a Summer Bridge participant following her senior year in high school. Summer Bridge is a program where first-generation and/or income-eligible freshmen-to-be come to campus, learn about keys to college success and earn some college credits in the process. "I got a head start on classes, and also met Jefferson Lee, Michele Sterner and Cassie Williams (in the Diversity and Inclusion/AOS office). They've have helped me with so many things. That's the area I have my work study, too," she said.
She's taking 17 credits this semester and also works off campus at Fuzzy's bar in Marshall. That experience is all part of her long-range professional plan.
"After graduation I plan on traveling and working at multiple restaurants to gain experience and knowledge in different areas of operation — kitchen, bar, management," she said. "My lifetime goal is to own and operate my own restaurant. I have two options I'm thinking about, either a fine pizza shop or a very fine dining restaurant."
She is a pizza aficionado. "I just love it," she said. Homemade pizza is her best dish, and she said her secret "is putting spices in the dough." As far as baking, "it's cheesecake — thick cheesecake — or banana bread."
SMSU is a good fit for Pardy. "It's not too big, and it's not too small," she said. "I like the class sizes too. I know many of the people but not everyone, and I'm meeting new people every day. And the professors all recognize me if I've had them in a class before."
Sometimes there's not enough hours in the day. She is the culinary coordinator for the Student Hospitality Opportunities Club, a group of about 15 students. They cook for faculty luncheons every other Thursday, and prepare the dinner theatre fare, too. "We also do any other events they call us for. We do holiday parties, birthday parties." In February the group will be selling homemade truffles on campus. "It's our biggest fundraiser, we'll be making three of four flavors, plus turtles."
She's also a member of the Culinology Club.
Pardy learned early the importance of self-discipline. "You have to get your priorities straight," she said of college success. "Time management is the biggest thing."
She likes the academic rigor of college because "I like taking classes I actually enjoy and not taking them because I have to."
Pardy will be one of the speakers at the Feb. 6 Foundation Scholarship Luncheon, an opportunity for students to meet personally some of the individuals who endow their scholarships. She'll speak about what scholarships mean to her, and the journey that brought her to SMSU.
She's keenly aware of what scholarships mean to so many students at SMSU. "It's the difference, for me, of going to college or not going," she said.