Student-operated Restaurant to Open at SMSU
Published
Friday, January 29, 2016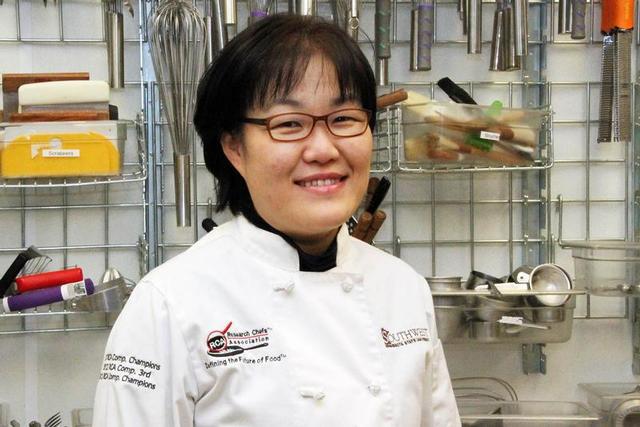 Joyce Hwang
Students of the SMSU Culinology and Hospitality Management programs will open a student-operated restaurant, Bon Appetit, for eight evenings starting Feb. 10.
Bon Appetit will be open Feb. 10, 17 and 24; March 2,16 and 30; and April 6 and 13. Reservations are preferred, although walk-ins will be accepted on a space-available basis. The restaurant is open to the public.
The restaurant hours are from 6-8:30 p.m., with the last order by 7:30 p.m. The restaurant is located in the SMSU Culinology/Hospitality Dining Room in the Individualized Learning Building, Room 116.
     Reservations can be made online at: https://www.smsu.edu/go/bonappetit/ or by calling Linda Baun at 507-537-6223.
Soup, salad, and dessert-of-the-day will be served with your choice of three entrées, for a cost of $23. Diners will choose one entrée from the following menu:
•Chicken breast stuffed with roasted red pepper, basil leaves, and fresh mozzarella over tomato risotto with red pepper coulis and basil oil
•Sautéed beef tips in a bourbon-mushroom cream sauce with sautéed zucchini and baby carrots over garlic mashed potatoes and toast points
•Spanish seafood paella of shrimp and calamari with diced tomatoes and bell peppers over saffron-chorizo rice
"It's entirely run by students who are Culinology or Hospitality Management majors," said Joyce Hwang, Assistant Professor of Hospitality Management. "They rotate being the manager, server, cook or dishwasher throughout the semester."
Tips are not expected, she said. "It's a classroom situation for the students, and I don't think tips would be appropriate," said Hwang. "We will ask customers to fill out a comment card, which will be invaluable feedback for our students."