Ag Bowl Scholarship Invitational Feb. 19
Published Tuesday, February 09, 2016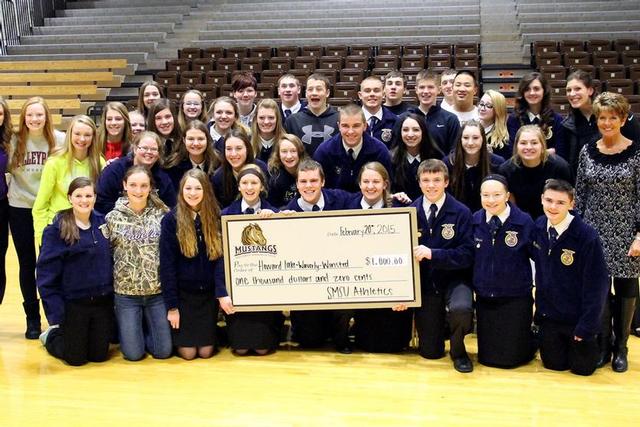 Howard Lake-Waverley-Winsted, the 2015 Ag Bowl Scholarship Invite champions
Southwest Minnesota State University will host the Ag Bowl Scholarship Invitational Friday, Feb. 19.
     The event is an extension of the annual Ag Bowl, a celebration of agriculture in southwest Minnesota.
     FFA teams from the region will compete in 16 FFA-certified Career Development Events (CDEs). The top FFA chapter will receive $1,000, and individual CDE winners will receive scholarship dollars to SMSU.
     In addition to the competition, there will also be a career fair featuring event sponsors, as well as information tables about SMSU's ag-related academic majors and campus tours.
     "The CDEs were selected because they relate well to the ag programs at SMSU," said Jennifer Graven, athletics director of marketing and promotions and the event coordinator. "We've had a lot of interest in this event. We had our highest level of participation last year, and we're looking to increase that this year."
This marks the fourth Ag Bowl Scholarship Invitational.
     All advisors will have the opportunity to tour Ralco Nutrition from 9-11 a.m. Transportation will be provided.
     Event sponsors include Ralco, Syngenta, CHS, Titan Machinery, Midwest Ag Enterprises, Minnesota Corn Growers Association, Minnesota Soybean Research & Promotion Council, ADM and Channel.
     Registration is from 7:30 a.m.-8:15 a.m., with a welcome at 8:15 a.m. Competition will be from 8:30 a.m.-noon, with awards scheduled for 1:30 p.m.
     For more information, go to http://smsumustangs.com/sports/2015/12/1/2016AgBowlInvite.aspx. 
Related Articles