GOLD College Kickoff March 16 at SMSU
Published Thursday, February 25, 2016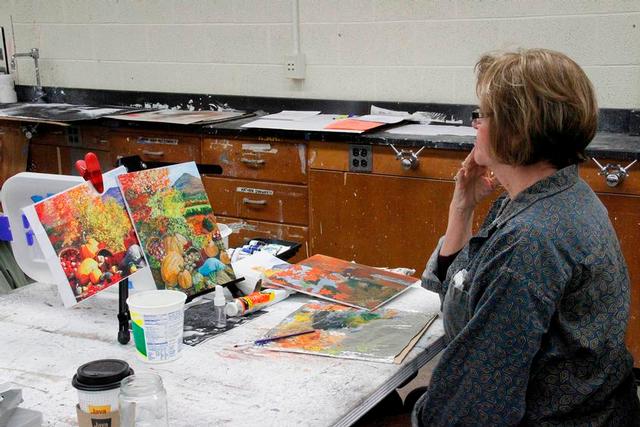 Gold College
David and Jeanie Johnston (Ole & Lena) will be the keynote performers at the GOLD College spring kickoff event at 2:15 p.m. on Wednesday, March 16 in Charter Hall 201 on the campus of Southwest Minnesota State University.
The spring session of classes will run from March 21 through April 28. GOLD College is open to all individuals and features non-credit courses over a broad area of interest areas.
David and Jeanie Johnston have been singing and performing together across the Twin Cities and greater Minnesota for 40 years. Their Ole & Lena Show serves up a unique blend of Scandinavian humor and folk music that has delighted audiences for years.
The kick-off begins with registration and refreshments from 2:15-3 p.m. The program begins at 3 p.m., and includes an overview of GOLD College and meetings with the study group leaders. At the end of the program the "Go for the GOLD" award will be presented.
For additional information please contact Marcia Beukelman by phone (507) 537-6251 or by email: Marcia.Beukelman@smsu.edu.
Senior Classes this session include:
Mondays
• Memoir Writing, 9:00-11:00 a.m., Carol Purrington, instructor. Writing the story of one's life may sound daunting, but in this class, you can learn how to leave a legacy for your family by writing "one bite at a time." This class is for those who are just beginning their memoirs or for those who need inspiration to continue. Small, manageable assignments will help you preserve your memories.  
• A Diplomat, a Politician, an Evangelist and a Warrior - The Greatest Lakota Leaders, 9:00-11:00 a.m., Steve Linstrom, instructor. Four men led the Lakota Sioux through the 35-year transition from unconquered rulers of the high plains to a people totally subjugated by white America. Discussions in this class will include the differences and similarities in personality and leadership style between Spotted Tail, Red Cloud, Sitting Bull and Crazy Horse; as well as the relevance to historical events. (Repeat class)
• A Look Back at the 1950s, 11:30 a.m.-1:30 p.m., Dr. Lloyd C. Petersen, facilitator. Do you remember drive-in movies, fins on cars, hula dancers in the rear window and bobby socks?  If so, you are the right person for this class. For those who are too young to know about these things, this is also the class for you to learn about what we did in those days.  Expect to laugh, share and have fun. (Repeat class) 
• Something Different, 2:00-4:00 p.m. If you want to do 'something different' this session, this study group is for you.  Each week a different SMSU professor will share one of their favorite lectures.  This SMSU sampler will include topics from Theatre, History, Music, Education and Astronomy. It is something for everyone!
• America's Greatest Presidents, 2:00-4:00 p.m., Pastor David Johnson, instructor. America's greatest presidents — who were they and what was their impact on our nation? Discussions will include George Washington, Thomas Jefferson, Abe Lincoln, Teddy Roosevelt and the presidents' wives. 
Tuesdays
            • Current Events, 9:00-11:00 a.m., Gary Grabau, instructor. This is a thoughtful and provocative discussion for those interested in world, national and regional events. Each session will begin with an analysis of events and issues followed by a robust exploration of all sides of the subject. Class will cover the political spectrum and do some political fact checking. The course will be interactive and you are more than welcome to join in and offer your perspective on the events as they unfold over the course of the semester.                                    
• Relationships, 11:30 a.m. -1:30 p.m., Jerry Bottelberghe, instructor. During class there will be a variety of relationships that distinguish who you are, and how you interact with your friends and family. In addition, it will explore how your relationships affect your health and your physical well-being.  Difficult conversations regarding relations with end-of-life issues such as medical directives, power of attorney, etc. will conclude the session.
• Secret Places in Southwest Minnesota, 2:00-4:00 p.m., Dr. Dave Pichaske, instructor. Discuss and visit southwest Minnesota's local treasures most tourists and many locals don't know about, from abandoned buildings to hidden museums to graveyards, old churches, cabins, mansions, baseball fields, and more.  You will have an opportunity to share your experiences while discovering local treasures you didn't know about. The spring GOLD College field trip is being planned around the content of this course; however it will be open to all Spring GOLD College participants.
• Needle Arts Open Studio, 2:00-4:00 p.m., Victoria McKinney/Blackhawk Studios, instructor. Bring your own knitting or crochet projects for work time together. Get expert help when you need it, learn some new techniques or perfect your old ones.  Acquire some time-saving tips and tricks along the way
Wednesdays
• Frank Lloyd Wright, 9:00-11:00 a.m., Dr. Pat Brace, instructor. Frank Lloyd Wright defined his particularly American school of architecture and design as organic — always appropriate to the era in which it is created, in harmony with its natural environment and fulfilling its first mission to create livable useable spaces. This course will examine his legacy by discussing the works of this master builder and his school, including those rights here in Minnesota.
• Put Life Back in Your Life, 9:00-11:00 a.m., Taught by Prairie Home Community and Hill Street Place personnel. Living well with chronic conditions helps participants with ongoing health conditions such as arthritis, diabetes, high blood pressure, anxiety and heart disease.  It also addresses better ways of dealing with or managing pain, fatigue, nutrition, medications, strength and energy.  Specially trained leaders teach this session. The program covers a new topic each week and provides opportunities for group problem solving. 
• Pirates — The Romance and the Reality, 11:30 a.m. -1:30 p.m., Marie Henriksen, instructor. Pirates were and are a strange and fascinating breed of fighting men.  You may have a fairly accurate picture of pirates, especially those of the "Golden Age of Piracy."  They were a complex mix of terrorist, sailor, sometime soldiers, unwashed brigands and perfumed dandies, but there is much to learn about these men and even sometimes women who have been a part of most of recorded history. 
• Computer Tips and Tricks for Beginners, 2:00-4:00 p.m., Beth Westra, instructor. Several sessions will be on Microsoft Office version 2013, concentrating on Word and Xcel spreadsheet.  Other topics covered will be generated by class participants' suggestions given the first class session.  It is highly recommended that participants have email and printer access for the class handouts that will be available for each session.
• Blood and Fire — The Birth of the Modern World, 2:00-4:00 p.m., Herb Pagel, instructor. This will be a course about the birth of the modern world. It starts with the end of the Revolutionary War, goes through the decisions and uncertainties establishing our republic and covers the spread of democratic fervor throughout Europe, and the transition of Russia under Catherine the Great. This period marked the end of the old monarchical form of governments and laid the basis for the political establishments of the next 200 years. It will include the clash of Russia with the Ottoman Empire, the French terror and the Napoleonic wars.
Thursdays
• Flat Plane Figure Carving, 9-11 a.m., Don Fischer, instructor. Flat Plane Figure Carving is an "old world" type of folk carving brought to this country by Scandinavian immigrants. It has become quite popular again in this country.  All levels of carvers are welcome.
• In Praise of the Broadway Musical, 11:30 a.m. -1:15 p.m., Jim Tabaka, instructor. Each week the class will review a different period of Broadway musicals.  1900-1927: The Musical Revue; 1927-1943: The Birth of the Book Musical; 1943-1965: The Classic Era; 1960s and Beyond: The Musical Matures. 
• Art Fundamentals, 11:30-1:30 p.m., Michellerose Cusack, instructor. Learn color theory and principles of art through drawing and painting. It will be an interactive study for auditory, visual and hands-on learners. Whether a beginner full of ideas, or an avid artist in a creative funk, join us as we extrapolate a fresh perspective and advance your inner artist. 
• Laughter Yoga, 2:00-4:00 p.m., Jennifer Thul, instructor.  This class will take a look at the history of therapeutic laughter and the health benefits of laughing.  Laughter Yoga is a unique exercise routine, which involves unconditional laughter with deep breathing. Anyone is capable of experiencing joy and emotional connection. The only requirement for this class is  a willingness to have fun.            
• Making Your Own Pottery, 2:00-4:00 p.m., Pat Hand, instructor. Students will work with clay to create hand-built pottery forms.  These will be dried and fired in a kiln to bisque temperature, then glazed and fired again to the glaze temperature.  Working on a potter's wheel may be an additional option. Limit 15 people; $10/person for supplies.
Related Articles