SMSU Forensics Team Wins Second Straight Limited Entry State Title
Published Friday, February 26, 2016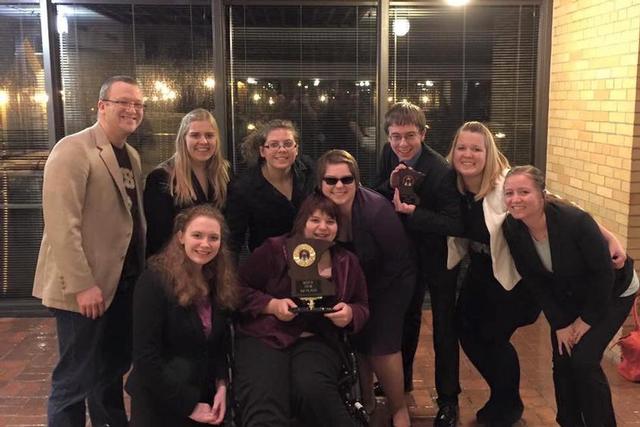 State champions!
The Southwest Minnesota State University forensics team claimed its second consecutive Limited Entry Minnesota State Championship during competition at Concordia College, Moorhead.
The Mustangs brought their most students to the state event since 2006. They were paced by Megan Bruns, who placed third in Informative Speaking. She also competed in Persuasive Speaking, POI and After Dinner Speaking.
Dylan Curfman placed sixth in Extemporaneous Speaking, and also competed in Impromptu Speaking.
Others who competed for SMSU, and their competitive categories, included:
• Courtney Menes: Prose, Persuasion
• Amber Volkmann:  Persuasion
• Laura Huebert: Informative, Drama
• Crystal Enga: Prose, Drama, POI, Extemporaneous Interpretation
• Kristen Barnhardt: Poetry, Extemporaneous Interpretation
• Alison Radon: Informative
"We are an extremely young team, but the students really pulled together at state," said Director of Forensics Ben Walker. "They showed incredible talent and heart. Our future is incredibly bright."
He said points were scored for placing in an event, and for finishing in the top half of preliminary rounds.
With her third-place finish in Informative Speaking, Bruns qualifies for the American Forensic Association national tournament in Gainesville, Fla. Her speech addressed the development of sex-specific medicine and how that might impact our world.
Associate Professor of Communication Studies Mark Fokken was recognized at the state event for his over 20 years of service to collegiate forensics. He is on sabbatical this year and will be stepping down as the SMSU director at the end of the academic year. Walker as served I that capacity this season.
Related Articles