DECA Chapter Takes Four Category Wins at State Competition
Published Sunday, February 28, 2016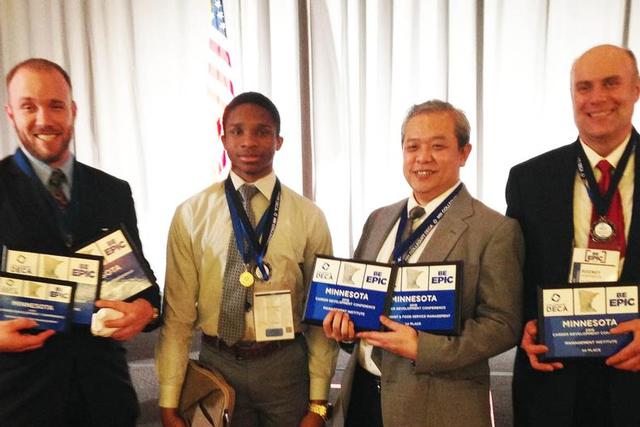 SMSU Collegiate DECA Chapter
The Southwest Minnesota State University Collegiate DECA Chapter took home four first places at the state Career Development Conference in Minneapolis recently and will advance to the national competition April 16-19 in Washington, D.C.
Each year, beginning at the state level, more than 1,300 collegiate DECA members demonstrate their career knowledge and skills by participating in DECA's competitive events program.
There were 14 participating colleges at the state level this year. Representing SMSU were:
• Rodney Hoffbeck, a graduate student from Redwood Falls, Minn.;
• Kenneth Lam, a Culinology major from Malaysia;
• Luther Brown, a Business Management major from Bridgewater, Iowa; and
• Peter Olojo-Nwosu, a Computer Science major from Nigeria.
SMSU had two team wins at the competition, and two individual winners. Lam took first place in a restaurant and food service business simulation. Lam and Hoffbeck placed first in an international marketing case study. Brown took first place in the team management meeting case study. Brown also took third in a human resources management case study. Hoffbeck, Luther and Lam teamed up to win the team challenge event. Olojo-Nwosu was a first-time participant in the event and advanced to the finals in two categories: hospitality, and tourism and business ethics.
Related Articles