SMSU to Receive 3 Campus Compact President's Awards
Published
Sunday, March 20, 2016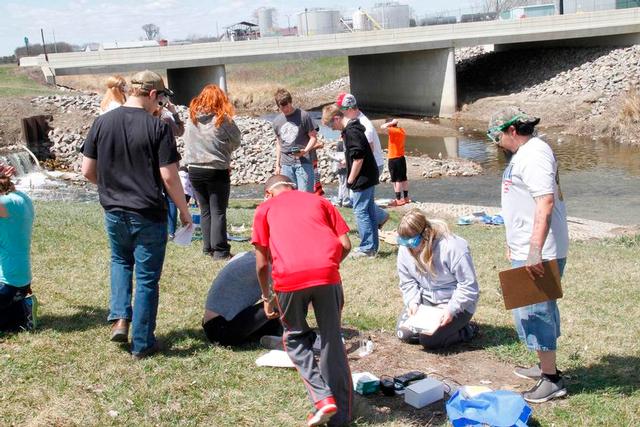 The President's Civic Engagement Steward Award went to the Redwood River Monitoring Project.
Southwest Minnesota State University, a member organization of the Minnesota Campus Compact, has selected recipients of three 2016 President's Awards.
The President's Awards are in the categories of Student Leadership, Civic Engagement and Community Partners.
The awards will be recognized at an April 7 luncheon at Macalester College. SMSU honorees include:
• President's Student Leadership Award: This award is for the student group Enactus, which is dedicated to entrepreneurship. Enactus finished in the top eight at the national competition a year ago and annually engages in projects that help individuals and groups while teaching the benefits of entrepreneurship.
Its "Right Direction" initiative assists individuals with a felony conviction find employment. This is done through a number of ways, including resume writing and interview skills assistance, and assisting with proper clothing for interviews. Various agencies in the Marshall region contact Enactus for assistance in helping these individuals.
Enactus is also involved with a three-year pilot program with the city, Marshall Public Schools and the Southwest/West Central Service Coop to better dispose of compostable waste at Park Side Elementary School and the new Red Baron Arena and Expo.
The President's Student Leadership Award recognizes a student or student organization that shows a deep commitment to civic responsibility and leadership.
• The President's Community Partner Award: This award is for a number of events from Jan. 11-21, 2016, that celebrated the life and legacy of Civil Rights icon Dr. Martin Luther King, Jr.
The SMSU effort was led by the Office of Diversity and Inclusion; Access, Opportunity, Success; and the Center for Civic Engagement, which collaborated with eight Marshall civic organizations.
 Events included a volunteer and service fair; a viewing of the movie "Selma"; a panel discussion featuring Charles McDew and Dr. Rickey Hill; a "Who Am I" performance by SMSU and Marshall High School students who dressed up as various Civil Rights leaders and performed short monologues; a performance by vocalist Kimberly Brown; a performance by storyteller Nothando Zulu; and a MLK Breakfast and Day of Service.
The President's Community Partner Award is for a community-based organization that has enhanced the quality of life in the community in meaningful and measurable ways.
• The President's Civic Engagement Steward Award: This recognizes SMSU's Redwood River Mentoring and Monitoring Project, coordinated by Environmental Science Professor Dr. Emily Deaver.
In its 10th year, this project pairs SMSU students with Marshall Public Schools seventh- and 10th-graders, who then collaboratively monitor the Redwood River water quality at three places as it passes through Marshall. SMSU students train 10th-graders how to test the water and they, in turn, work with seventh-graders to test the Redwood River water. This is done twice a year, in the fall, and again in the spring.
The President's Civic Engagement Steward Award recognizes those that have significantly advanced their campus' distinctive civic mission by forming strong partnerships, supporting others' civic engagement and working to institutionalize a culture and practice of engagement.
"I continue to be impressed by the dedication of our students and faculty to civic engagement initiatives," said Dr. Connie J. Gores, SMSU President. "SMSU has a strong and enduring commitment to civic responsibility and leadership, as demonstrated by these groups both on campus, in the community, and beyond."
President Gores serves on the Board of Directors of the Minnesota Campus Compact. The Minnesota Campus Compact was established in 1994 with 37 college and university presidents as members. It is affiliated with Campus Compact, a national coalition that includes 35 state affiliates and more than 1,100 colleges and university presidents committed to the civic purposes of higher education.