Exercise Science Degree to be Offered on Anoka-Ramsey CC campus
Published Monday, April 11, 2016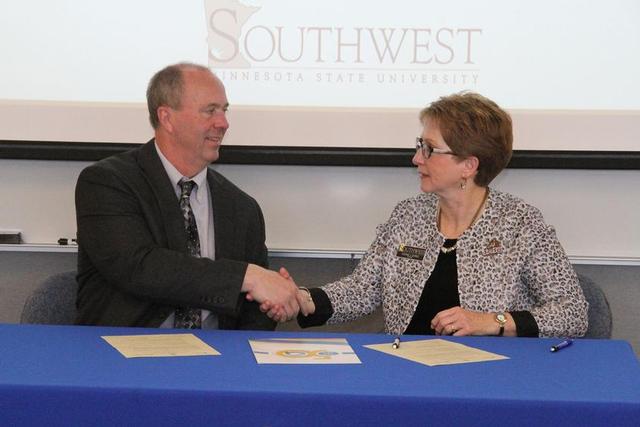 SMSU President Dr. Connie J. Gores, right, and Anoka-Ramsey President Kent Hanson
The Exercise Science degree at southwest Minnesota State University will be offered on the campus of Anoka-Ramsey Community College starting in the fall semester, 2016.
The collaborative agreement was finalized at a signing ceremony on Friday, April 8 on the Anoka-Ramsey Community College campus in Coon Rapids, Minn.
Associate Professor of Exercise Science Brent Jeffers was instrumental in bringing the two institutions together.  "I grew up in south Minneapolis. I am a product of the Minneapolis public school system," said Jeffers. "My father cashed in his bonds to help send me to college. I've been in the MnSCU system for almost 40 years now, and I'm happy that this type of collaborative agreement can be put in place to benefit the student," he said. "I think this is the most exciting project in my career, and it's great to work with people so committed to giving more options to students."
Exercise Science is a growing major at SMSU following its addition six years ago. There are approximately 160 Exercise Science majors.
"We are pleased to partner with Anoka-Ramsey Community College to provide this distinctive bachelor's degree program," said SMSU President Dr. Connie J. Gores. "Many of these students are unable to travel to a four-year college a couple of hours away  — some are place-bound, with jobs and responsibilities. This is an opportunity to help them earn a degree they might otherwise not have had the opportunity to pursue."
Students may enroll at both institutions simultaneously and may enter the four-year degree program as first-semester freshmen or transfer students. Students complete the general education and Associate of Science in Exercise Science degree requirements from Anoka-Ramsey while also earning credits toward a bachelor's degree from SMSU.
In the fall of 2015, SMSU and Normandale Community College began a similar collaboration in Exercise Science.
Related Articles