SMSU, North Hennepin Sign Exercise Science Collaborative Agreement
Published Wednesday, April 13, 2016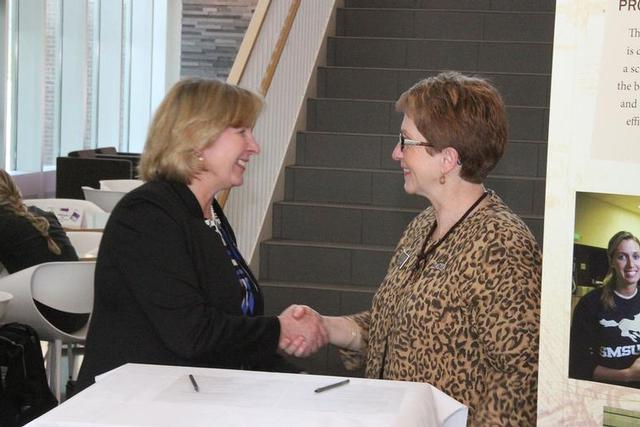 North Hennepin President Barbara McDonald, left, and SMSU President Dr. Connie Gores
Liz Farist plans on taking advantage of the collaborative agreement signed by SMSU and North Hennepin Community College.
The second-year Exercise Science student will receive her two-year AS degree from North Hennepin in May. A married ex-Marine who served two tours of duty in Afghanistan, she plans on transferring those credits in pursuit of of her four-year Exercise Science degree from SMSU.
The two institutions signed a collaborative agreement on Wednesday, April 13, which will allow her to earn that four-year SMSU degree at North Hennepin Community College.
"As a veteran, it can be intimidating and scary to be away from your support system," said Farist. North Hennepin just opened a Veterans Center, and she has become comfortable at the Brooklyn Park community college. "I'm not afraid of doing things on my own," she said, "but it's important to have your support system close. I am confident I can finish my (four-year SMSU) degree here. It gives me an opportunity to continue working with current faculty, as well as a new group of faculty from Southwest Minnesota State."
The collaboration brings to three the number of community colleges in the metro area offering SMSU's Exercise Science degree. Similar agreements have been signed with Anoka-Ramsey and Normandale Community Colleges.
"This is an important program that will help change lives" said SMSU President Dr. Connie J. Gores. "Our two institutions are committed to meeting the needs of Minnesota students, and this will be a high-quality program at an affordable cost. That's what true collaborations are all about."
Associate Professor of Exercise Science Brent Jeffers was instrumental in bringing the two institutions together. Jeffers is a Minneapolis native and has been affiliated with Minnesota State Colleges and Universities (MnSCU) institutions for almost 40 years, as a student, former coach and current professor.
"Four or five years ago, I thought about the changing nature of education, and how it was a shame that there was not an Exercise Science degree offered by a MnSCU institution in Minneapolis. It's exciting to have this collaborative agreement between SMSU and North Hennepin. I look forward to working with students like Liz. There's a lot of excitement about this here, and we're thankful to be working with an institution with talented faculty and a committed administration."
North Hennepin President Barbara McDonald said the four-year degree offering "really gives students in a growing academic area at our institution more options."
The degree will be offered starting in the fall semester 2016.
Related Articles