Mark Fokken is Cowan Award Winner
Published Wednesday, April 20, 2016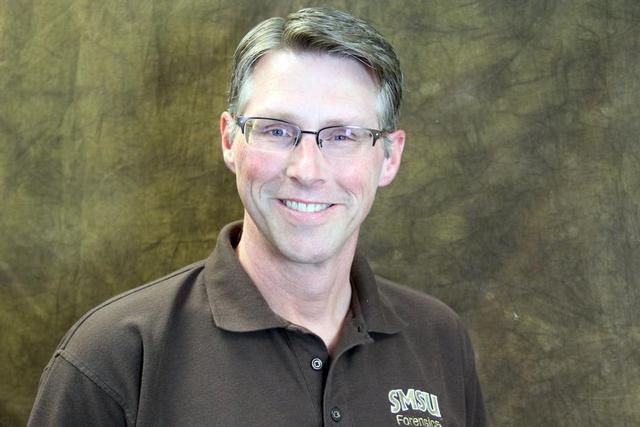 Mark Fokken
Mark Fokken, Associate Professor of Communication Studies, is the 2016 recipient of the Cathy Cowan Award at Southwest Minnesota State University.
The award goes to a faculty or staff member who has made great contributions to SMSU and the region. It is named in honor of Catherine Cowan, the popular SMSU psychology professor who died in an auto accident on Dec. 22, 2001.
Fokken will be honored during commencement exercises May 7 with the presentation of a medal by SMSU President Dr. Connie J. Gores.
A Canby, Minn., native, Fokken has been at SMSU 21 years. He is on sabbatical this year.
He is well respected across campus and has guided the forensics team since his arrival 21 years ago. His work with the forensics team has earned him SMSU Advisor of the Year honors five different times. He is very active within the forensics community on a statewide, regional and national basis, and serves on several forensic boards and as a judge at both the collegiate and high school levels.
Fokken is spending his sabbatical year researching public relations, which he will teach for a second time this coming academic year, and developing some online courses. He is also planning a trip to Europe, where he will assist a friend in teaching some courses at a university in southern Germany.
Fokken knew Cathy Cowan "pretty well" at SMSU. "I taught here six years before she passed away," he said. Cowan was known for her love of entertaining — especially around the holidays — and he attended many of her get-togethers.
"She made a concerted effort to reach out to me as a new faculty member, and made me feel welcome," said Fokken, recalling his early association with Cowan.
Fokken will be turning his forensic duties at SMSU over to assistant coach Ben Walker next year. "He has been the acting director while I've been on sabbatical, and he will be the director next year," he said. And while he'll not be heading forensics at SMSU, Fokken will keep his fingers in the activity.
SMSU has hosted the SMSU High School Speech Invitational for 17 years,  "and I'll be involved with those," he said. "I'll continue to serve as the high school tournament director and work with students on preparing for competition." He is also a judge for the Minnesota high school state tournament, and will continue in that capacity.
The Cowan Award is the University's most prestigious honor, created to honor Cowan's memory, and recognizes those who "Do good for others," according to the nomination criteria.
Fokken serves on numerous committees at the university, and has emceed the fall convocation for 17 years. He has also served on the board of the SMSU Lutheran Campus Ministry for the past six years. His parents live in Canby and he is a member of Our Savior's Lutheran Church, where he has served as a trustee and volunteers in many difference capacities. He volunteers as the parade announcer for Canby Hat Daze, works at the church dining hall during the fair, and assisted with the restoration of the Canby Theater, recently named the best movie theater in the state by WCCO-TV.
He learned how to knit and crochet from his mother, and that hobby has won him many county and state fair awards as well as the gratitude of those he gives the items to. He is also famous for his baking skills. His cookies help several groups with fund-raising efforts, including the Forensic Bake Sale. He also has dedicated Facebook following of his pie-making efforts and his sampling of pies as he travels the country.
Family is near and dear to him, and it's the desire to be closer to family in the Canby area that brought him to SMSU. At the time he was on a fixed-term contract at Winona State University, where he was an instructor and an assistant coach for the forensics team after receiving his undergraduate and master's degrees from South Dakota State.
When the position at SMSU came up, he jumped at the opportunity to get back to the area he was so familiar with. As one of the members of his search committee said, "we made one of the best decisions we ever made — we hired Mark Fokken. Little did we know 21 years ago what a positive impact Mark would have on the campus, the reputation of the university and on the surrounding region."
Related Articles