SMSU Commencement May 7 at 10 a.m.
Published Monday, May 02, 2016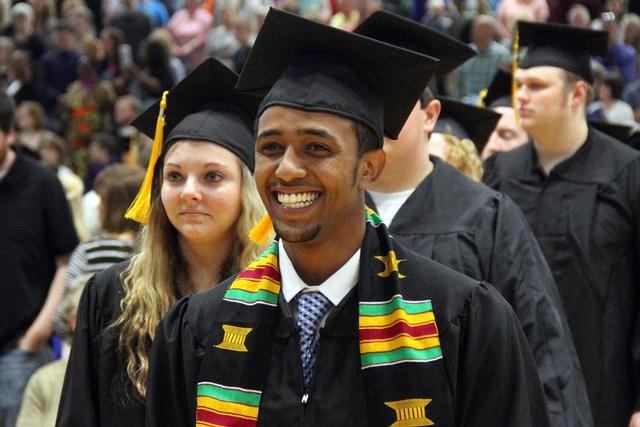 Commencement
Southwest Minnesota State University will hold its 2016 commencement exercises at 10 a.m. on Saturday, May 7 in the Recreation/Athletic Facility on campus.
A total of 412 students will participate in commencement this year. That number does not reflect the total number of graduates, as some students choose not to participate in commencement.
Commencement represents the culmination of a dedicated academic path. Friends and family from across the nation, and globe, will watch from the R/A Facility and celebrate with their loved ones.
This year's keynote speaker is Michael Walker, a 1998 alumnus and the Director of the Office of Black Male Student Achievement for the Minneapolis Public Schools.
SMSU Student Association President Ashanti Payne will greet those in attendance, followed by Walker's remarks.  Also speaking will be Sara Granheim, president of the SMSU Alumni Association.
An Outstanding Senior Award will be presented. Also presented will be the Cathy Cowan Award, to Mark Fokken, Associate Professor of Communication Studies.
SMSU President Dr. Connie J. Gores will hand out the diplomas, with assistance from Dr. Dwight C. Watson, Provost, and Dr. Raphael Onyeghala, Dean of the College of Business, Education and Professional Studies. Dr. Jan Loft, Dean of the College of Arts, Letters and Sciences, will read the names of each candidate as they cross the stage to receive their diploma.
There will be a Presidential Reception in the upper level of the Conference Center following commencement. It will feature a light lunch and beverages.
Related Articles