Enactus Team at Nationals
Published Thursday, May 19, 2016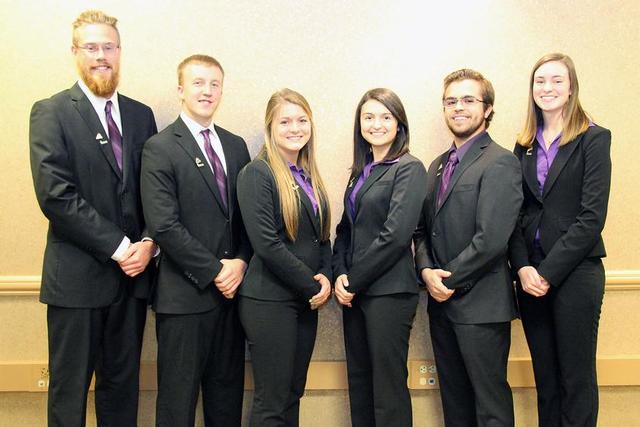 L-r: Lee Holt, Aaron Lange, Rebekah Danielson, Amelia Marroquin, Cole Scheller, Paige Patterson
The SMSU Enactus team finished in the top eight in the country during the national competition recently in St. Louis, Mo.
It is the second consecutive year the Enactus team has finished in the top eight, and the third time since the group's inception.
In addition, the team placed second in the Walmart Women's Economic Empowerment Project Partnership and was awarded $4,000. Twelve team members also received the service leadership award, dedicated to Enactus students who are heavily involved in their team's activities.
Enactus is a campus group with an emphasis on entrepreneurship.
SMSU's six-member Enactus team — formerly known as Students in Free Enterprise — competed against other top teams from across the nation.
The team qualified for national competition by winning the regional competition in March.
SMSU's competition team included:
• Lee Holt, a Business Management graduate from Windom, Minn.
• Aaron Lange, a Marketing graduate from Dawson, Minn.
• Rebekah Danielson, a junior Finance major from Roseau, Minn.
• Amelia Marroquin, a senior Hospitality Management major from Carver, Minn.
• Cole Scheller, a senior Communication Studies major from Eagan, Minn.
• Paige Patterson, a senior Management major from Eagan, Minn.
The Enactus team's national presentation focused on a trio of projects. They included:
• The CARE Strategy. Care is an acronym for the Center of Applied Research and Entrepreneurship. The Enactus team's five-year plan is to create a Center where students can bridge their skills in the classroom to experiential learning. That will involve business consulting, financial analysis, project management and social entrepreneurship.
• Operation Organic Waste: Enactus has developed a three-year pilot program to divert organic waste from the landfill to a compost facility operated by Full Circle Organics. The stakeholders include Marshall Public Schools, the City of Marshall, SMSU, and the Marshall Green Step Committee.
• The Right Direction. Enactus developed a unique intervention program to facilitate the transition of paroled felony offers into society. Enactus provides training and skill development to this population so they can obtain employment and contribute to society.
Congratulations, Enactus!
Related Articles