Boys State Begins June 12 at SMSU
Published Thursday, May 26, 2016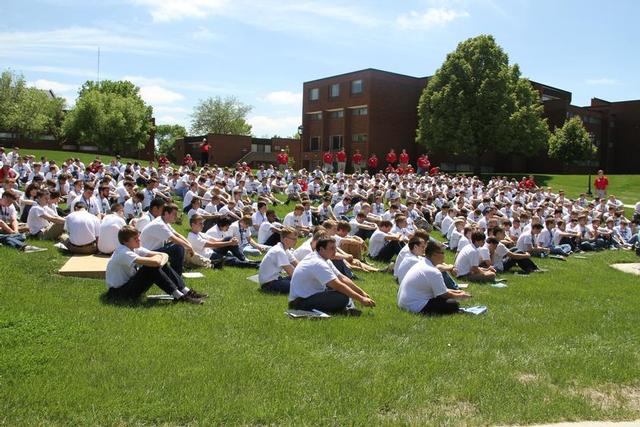 American Legion Boys State
Marshall, Minn. — Approximately 350 boys from across Minnesota will participate in the 68th American Legion Boys State, which will be held June 12-18 on the campus of Southwest Minnesota State University.
"That's a good number, approximately what we have had the past several years," said Mike Bredeck, Boys State director. "We've always managed to have a lot of fun while teaching the boys about the political process."
This is the 10th year that SMSU has hosted Boys State. "SMSU has been the perfect host for us since being selected as the site 10 years ago," said Bredeck. "Hosting Boys State in Marshall exposes the boys to a fantastic university located in a fantastic community."
Boys State is an exercise in applied government. Participants will learn, hands-on, about government, patriotism and citizenship. They can participate in city, county and state government activities and elections, including the campaign process. A Boys State governor will be elected at the end of the week.
All Boys Staters are seniors-to-be at their respective high schools, and are sponsored by American Legion posts across the state.
"This year we will continue to stress city and county government," said Bredeck. "That is what affects your average citizen the most, but in some regards, is taught the least.
"Since it's an election year, we will also be emphasizing the importance of party candidates, and the importance of non-party candidates," he continued. "A good example of the latter is our opening night speaker, Greg Orman."
Orman is a past Minnesota Boys State governor now living in Kansas. "He ran as an independent for the U.S. Senate and just narrowly was defeated," said Bredeck. "He recently wrote a book, 'Declaration of Independents.'"
While attending Boys State, participants will be introduced to a number of speakers, including Greg Orman, former Boys State governor and Boys Nation president; past Sons of the American Legion National Commander Joe Mayne; 2015 Boys State Governor Anthony Rosa; Minnesota Supreme Court Justice Paul Anderson; and Chair of the University of Minnesota Board of Regents Dean Johnson, among others.
In addition to the political activities that all Boys Staters will engage in, there is a Boys State band and a Boys State choir. Those two groups will give a free concert at 7 p.m. on June 17 in the Schwan Center for the Performing Arts at Marshall High School.
Boys will also be able to participate in organized sporting events, including volleyball, basketball and softball. A daily newspaper will also be published.
Boys State participants and staff members are housed in the residence halls at the university.
Any Boys State member who elects to attend SMSU in the fall of  2016-17 will receive a scholarship.
The public is invited to listen to any of the speakers or attend other events during Boys State.
For more information about Minnesota Boys State, visit the Web site: www.mnboysstate.org.
Related Articles