Mustang Players Make Some New Little Buddies
Published
Friday, July 15, 2016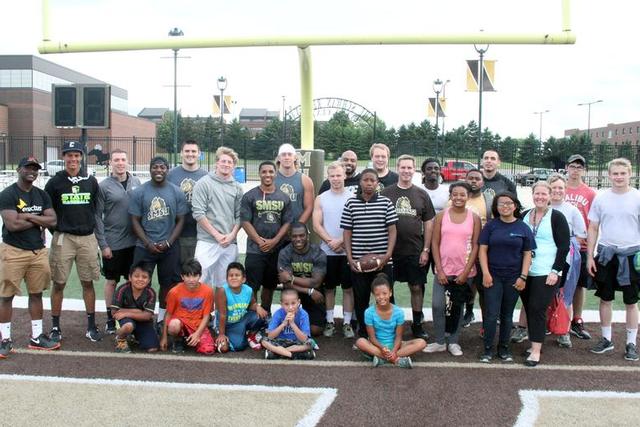 SMSU football players had an opportunity to make some new Mustang fans on July 14 when they played football with some Little Buddies from the area.
Ten Little Buddies played catch, ran some plays and frolicked on the turf of the Schwan Regional Event Center. At the end, they heard some inspiring words from Ashanti Payne, Mustang senior running back and Student Association president.
"I've always loved football," Payne told the Little Buddies. "The first play, of my first game, I got the ball, and scored a touchdown. My love of the game has brought me here today.
"Always give 110 percent, in everything you do," he continued. "You never know when you won't be able to do things. Use the gifts you have to do the things you can do."
The event was organized by Manny Giwa, an SMSU junior from Osseo, Minn., and the county coordinator for the Big Buddies-Little Buddies program. Big Buddies is administered by Western Community Action.
"I thought it would be a good idea to have the Little Buddies get out here and play some football with the Mustangs," he said.
Giwa is friends with Payne and the Mustang running back assisted in recruiting some Mustang players who are in town for the summer to come out and participate.
The Little Buddies were very appreciative and asked for autographs on t-shirts that were given. They talked to their new Mustang friends and some said they'd try to make the team's first game of the season on Sept. 1 at home against Minnesota-Duluth.