Forget is VP for Enrollment Management and Student Success
Published Thursday, July 21, 2016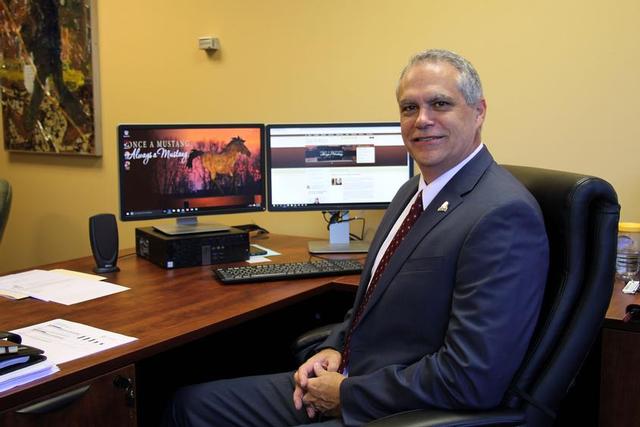 Robert Forget
Robert Forget brings to his position as Vice President for Enrollment Management and Student Success a broad background in college admission work.
Forget comes to SMSU from Viterbo University in La Crosse, Wis., where he was the Dean of Admission for five years.  Prior to that he was the Associate Director of Admissions at the University of Wisconsin-Madison. He spent a number of years at Michigan Technological University in Houghton, Mich., prior to that, where he was Director of Undergraduate Recruitment, Associate Director for Recruitment, Assistant Director of Admissions and an admissions representative.
He received his undergraduate degree in Business Administration from Northern Michigan University, Marquette Mich., and his master's in Educational Leadership and Policy Analysis from the University of Wisconsin-Madison.
He is originally from Tamarack City, Mich., and was initially interested in SMSU "because of the size of the school, and the fact it's a liberal arts public institution. What sealed it for me was the community and the people."
He's new to the position, and said, initially, he wants to "learn the culture of the university, as well as grow enrollment through initiatives and improve student retention."
Long-term, he would like to the "the university grow to the desired enrollment levels. "Technology has totally changed the recruiting process over the past decade or so, he feels, and he wants to make sure that parents don't get lost in the shuffle during that process.
Years ago, admissions offices sent out packets to home addresses and that information was shared by both students and parents, he said. Today, however, many students use university websites as their first contact with institutions and for many of these "stealth applicants," as he calls them, the first contact may be an application for enrollment.
Today's students are tech savvy and have different expectations as they approach their college choice, he feels. That requires different strategies, and he plans on using different approaches to not only recruit students, but retain them once they enroll.
Forget and his wife, Liz, have two children, Tyler, an assistant underwriter for Liberty Mutual in St. Paul, and Tristyn, a senior at Viterbo University.
Related Articles