President Connie J. Gores' New Wheels
Published Monday, August 08, 2016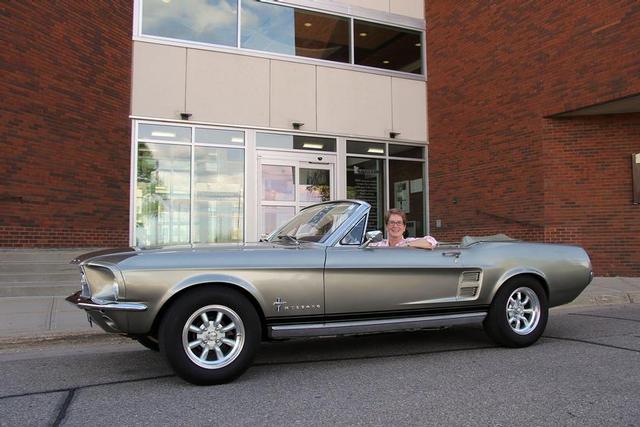 President Connie J. Gores and her 1967 Mustang
If you are a university president, and the doors to your institution opened in 1967, and your team mascot is a Mustang, what would you drive?
A 1967 Mustang, of course.
That's the vehicle SMSU President Dr. Connie J. Gores recently purchased — a classic gold 1967 Mustang.
She was talking to Chet Lockwood of Lockwood Motors in Marshall about the possibility one day, and he took it from there.
"The first time I saw it, it was parked in my driveway, and his business card was under the windshield wiper," said President Gores. "He really went to a lot of trouble to find it, and it's in great shape."
Lockwood located the Mustang in Utah, had it shipped to Marshall, and now it will help spread Mustang spirit into the future.
President Gores said the Mustang will be seen in parades and at various SMSU events — and on the open road. "Who doesn't love a convertible?" she asked.
The two-door vehicle has a V-6 motor, leather interior, power steering, hand-crank windows, an automatic transmission on the floor, an AM radio, and a dimmer switch on the floor. It didn't come with power brakes, and that, President Gores admitted, took a bit of getting used to.
Madden Upholstery in Marshall did some work on the retractable roof to get it in pristine condition.
"I'm going to have fun with this," said President Gores. "This is a wonderful way to honor and celebrate the University as we approach our 50th anniversary. What better way to do that and have fun at the same time?"
A social media contest was created to suggest customized collector license plates for the vehicle. Seven characters are allowed, and the three finalists include "SMSUPRZ," "SMSUM4L" and "DRSTANG." The Department of Motor Vehicles will select the final one.
"We had some other entries that were very good, but they were already taken," said President Gores. "I want to thank those who took time to make suggestions. It was fun getting the Mustang community involved. Mustang spirit is alive and going strong!"
Related Articles