Smokefest is August 19-20 at SMSU
Published
Monday, August 08, 2016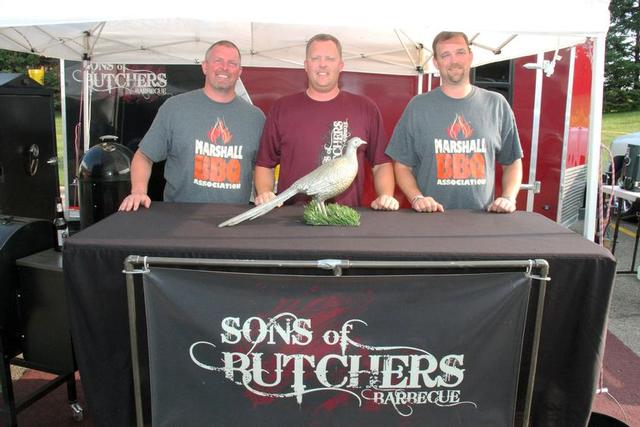 The Sons of Butchers, from Marshall, Minn.
Competitive barbecue and family fun will be big parts of the 10th annual Southwest Minnesota State University Smokefest, which will be held Aug. 19-20 at SMSU.
Event coordinator Jennifer Graven anticipates up to 50 barbecue teams will compete this year for cash prizes.
Smokefest has become a regional favorite as teams from across the Midwest vie for top honors. Teams will arrive Aug. 19 and begin setting up in the parking lot next to the R/A Facility.
Teams will barbecue four meats — chicken, brisket, ribs and shoulder (pulled pork) — and those will be turned in for judging by noon on Aug. 20. Results will be announced at approximately 4 p.m. in the R/A Facility.
Many family events are planned for Aug. 19, said Graven. For children, a large number of inflatables will be on hand from 5:30-8 p.m. Hy-Vee will host a food tent with a barbecue theme from 5:30-8 p.m., and the Mustang Booster Club Kickoff Picnic will be held from 6:30-8:30 p.m. Those who have joined the Booster Club this year receive a free barbecue dinner. Memberships will be taken that evening.
The beverage tent will be open from 5:30-8:30 p.m., and a movie, "Batman vs. Superman (PG-13), will be shown on the Schwan Regional Event Center scoreboard at 9 p.m. The public is invited to bring lawn chairs onto the playing surface and enjoy the movie.
The legendary Johnny Holm Band will present a free concert from 9 p.m.-midnight on Mustang Trail, between the Schwan Regional Event Center and the R/A Facility.
Friday night is also when competing teams put any number of interesting items on their grills/smokers to share with friends, fellow competitors and onlookers.
"The competitors really like Friday night. It's a chance to share some food, and an opportunity for area residents to walk around and look at the various smokers and talk to the competitors. It's a more relaxed time. Once the teams put on their meats for competition, they get serious," said Graven.
Smokefest is sanctioned by the Kansas City Barbecue Society, with the grand champion qualifying for a drawing to advance to the Jack Daniels Invitational competition in Tennessee. The overall winner automatically qualifies for the Royal Barbecue Contest in Kansas City, also.
Smokefest's date has varied since its inception, but has settled in to coincide with the annual Sounds of Summer celebration in Marshall.