Summer Bridge Program Helps Prepare Students for College Success
Published
Sunday, August 14, 2016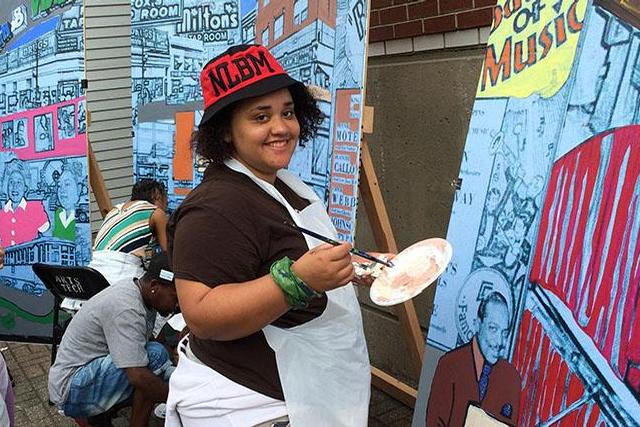 Sophia Pone, a Summer Bridge student, participated in "Spill Paint Not Blood" mural-painting
Thirty-three incoming SMSU freshmen have received a jump-start on their college careers through the University's Summer Bridge program.
Now in its 14th year, the program's purpose is to help prepare participating students for college through a number courses and activities that give the students a better understanding of what to expect when classes begin August 22.
The students earn eight credits through the program, which consists of communication studies, sociology, PE and Global Studies components.
This year's Summer Bridge participants are from all over the Midwest, said Michele Knife Sterner, Associate Director of the Access, Opportunity Success program. "They're from South Dakota, Wisconsin, Illinois, Iowa and Minnesota," she said.
"And it's a culturally diverse group, too," said Dr. Rick Herder, Associate Professor of Communication Studies who was one of the instructors for this year's program.
Summer Bridge is open to students of color, first-generation college students or those who are Pell Grant-eligible, said Sterner.
The program runs from July 30 through August 13. Culminating the program was a trip to Kansas City, Mo., from Aug. 3-8., where the group explored the city and learned about its interesting Civil War and Civil Rights history.
They happened upon a "Spill Paint Not Blood" mural-painting event in downtown Kansas City and many students participated. A local NBC affiliate was on hand and several students were shown on television that evening.
They toured several places, including the birth site of the Civil Rights leader Malcolm X; the Black Archives of Mid-America; the Jazz and Negro League Baseball Museums; and the Steamboat Arabia exhibit. "The Steamboat Arabia sank in the Missouri River in 1852," said Sterner. "it was discovered 24 years ago. It was delivering material to the western settlers when it went down," she said.
Herder said the students were required to give a speech about one of the things they saw on the trip.
The students were split into seven groups, and each group will have a poster presentation at this coming December's Undergraduate Research Conference.
"I had no idea about the rich history of Kansas City, and the role the city played in the Civil War," said Sterner.
Herder said his favorite part of the trip was the tour of the Black Archives of Mid-America. "It showed the influence of the city on black culture, the role of the city during the Civil War, and gave us a taste of what we'd see the rest of the trip," he said.
Both Sterner and Herder believe strongly on the importance of the Summer Bridge program and how it helps participants success in college once classes begin.