A Third Generation Mustang
Published Wednesday, August 24, 2016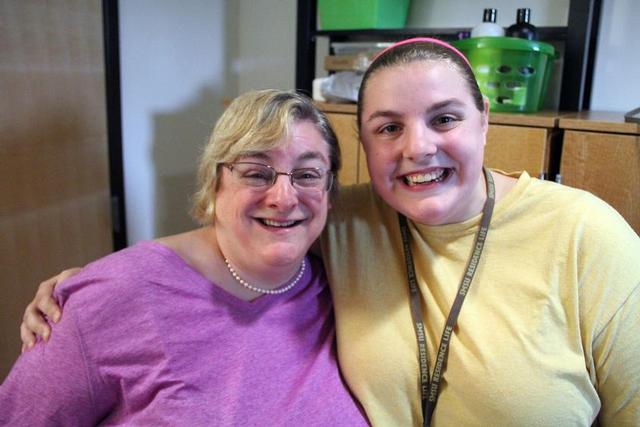 Tess Novack, right, and her mother Polly
Freshman Tess (Theresa) Novack had heard a lot about SMSU, from her mother Polly, a 1990 alumna, as well as her grandfather, Jerry Parnell, a 1971 Charter Class member.
"My grandpa told me he had worked there, and my mom talked about it, too. When I was looking at colleges, taking all of those tests and quizzes, SMSU kept coming back as a good place for me. When I visited, from the moment I walked on to the campus, I fell in love with it. I learned about the family history, and I think it was within the first 10 minutes of my visit that I told my mom that this is where I will be coming. It felt like I belonged."
As SMSU approaches its 50th anniversary (the doors opened in 1967), we have seen second-generation students attend the university. But it's rare to see a third generation student.
Welcome, Tess Novack, a third-generation Mustang.
Her grandfather, Jerry Parnell, was a 1971 charter class member who was hired at SMSU upon graduation, where he worked as a media design specialist for the TV Engineering and Production program before retiring. He had worked for 16 years as the station manager for WFRV-TV in Green Bay — back in those early Packer glory years — before enrolling at SMSU as a 40-year-old. He was one of the university's first non-traditional students.
Jerry and Diane Parnell had five children, and all of them are SMSU alumni: Steven, 1976; Charles, 1978; Karen, 1980; Ellen, 1985; and Polly, 1990. Steven's wife, Donna (Ponstein), is also a 1976 graduate.
And now it's Tess's turn to carry on that Mustang tradition. She received help from Mustang Movers when she arrived at Sweetland Hall, and soon her belongings were in her room on the second floor, north wing.
"When I was offered a job at Southwest, my wife and I knew Marshall would be a great place to raise our family. Southwest is a great school full of staff and faculty that truly care about each and every student. I know that tradition will continue as Tess begins her college journey," said Parnell.
Tess wants to major in special education, a goal she's had for quite some time. Her brother, Charlie, a senior at Eagan High School, has Asperger's syndrome. "It's on the high-functioning end of the autism spectrum, and I've grown up with it. I knew special education was something I wanted to do, to help my brother."
Polly Novack is proud her daughter is a third-generation student and remembers her years at SMSU with fondness. "It was very positive for me," she said. "One of my better memories was the Homecoming parade. And it was always windy at the football games."
Tess Novack is aware of her third-generation status, "but that's not the reason I want to come to SMSU. They have a strong education program, and I just really felt at home when I arrived for my visit."
Polly Novack feels the university was a good fit for the Parnell children. In fact, there's a Parnell Family Scholarship through the SMSU Foundation. It goes to a Marshall High School graduate who will major in one of the academic majors of the five Parnell children.
Charlie Parnell, Class of 1978, said "SSU gave me a solid education. The science and math faculty were outstanding and prepared me for a great career. I would choose to do it all over again, no regrets."
On Thursday night, Tess Novack had already won a Mustang water bottle as a door prize and her mother felt at ease as she drove back to their home in Inver Grove Heights. "Truly, SMSU is still a great school. It put my mind at ease," she said.
Polly plans on returning for family weekend in September, and perhaps for Homecoming as well. The family has a deep connection with the university, and are all happy to see a third generation member become a mustang.
Related Articles