Board of Teaching Approves Agricultural Education Program
Published Friday, August 26, 2016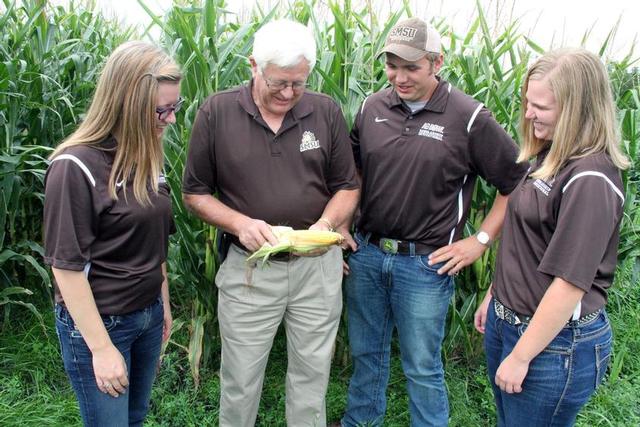 Agriculture Professor and Students
The Southwest Minnesota State University (SMSU) Department of Agriculture, Culinology and Hospitality Management has received approval from the Minnesota Board of Teaching to offer an Agricultural Education teacher licensure program.
The program begins this fall semester 2016 and will help meet the growing demand for agricultural education graduates in the state. According to Department of Education statistics, there are approximately three job openings for each agricultural education graduate.
The multidisciplinary degree focuses on a strong liberal education program that emphasizes critical thinking, effective communication and a well-rounded knowledge base. Through active learning, the Agricultural Education Teacher Licensure Program prepares students to become agricultural teachers and FFA advisors in Minnesota secondary schools.
The core of the major is a balanced program of study that includes core courses in science, agriculture, educational methodology and leadership development. 
"Agricultural education is a degree that's in high demand," said SMSU President Dr. Connie J. Gores. "There are annually more jobs than there are graduates, and we're pleased to be able to add this major to our curriculum."
Legislative support came from State Rep. Chris Swedzinski, R-Ghent, and State Sen. Gary Dahms, R-Redwood Falls.
"We want to keep our young people in the area," Swedzinski said. "I'm excited to see this, it's going to have a big impact on agriculture and agribusiness in southwest Minnesota."
"I'd like to congratulate SMSU for having the Board of Teaching accept the proposal for an Agricultural Education program," said Dahms. "We have a shortage of ag education teachers every year, and we need to expand opportunities for students in that area. This is a final piece to the puzzle."
Students in the Agricultural Education program will benefit from many classroom experiences throughout their education. "Students in the Agricultural Education program at SMSU will gain valuable learning experiences throughout their term at SMSU with early and frequent classroom placement opportunities, as well as experiential-based education in the area of agriculture," said Dr. Kristin Kovar, Assistant Professor of Agricultural Education.
With the addition of the Agricultural Education program, SMSU's School of Agriculture now offers six bachelor's degrees — Agricultural Education; Agronomy; Agricultural Business Management; Agricultural Communications and Leadership; Agriculture; and Agricultural Solutions. SMSU also offers a two-year Agricultural Business Management degree.
Joel Larson of the Minnesota Department of Education said the degree will go a long way toward providing the state with an increased number of ag education instructors. "There's a tremendous shortage of ag educators and having SMSU's program will certainly make an impact on the shortage and give students another option within our state borders," he said.
For more information contact: Grant Will, Director of Marketing, Recruitment and Outreach for Agricultural Programs: Grant.Will@smsu.edu; 507-537-6428.
Related Articles