GOLD College kickoff Sept. 14
Published Friday, August 26, 2016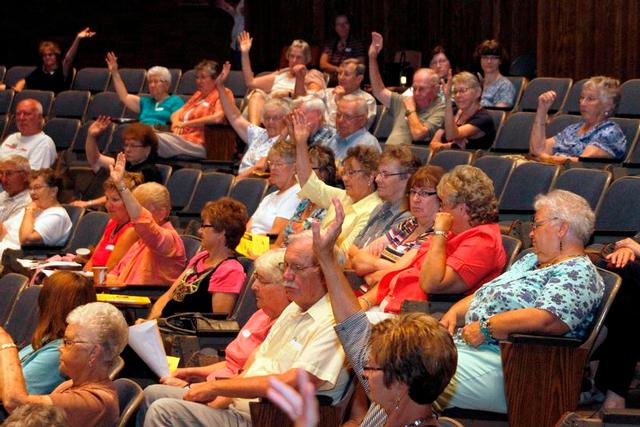 Gold College Students
GOLD College continues to be a popular offering for all ages and is preparing for its fall session of courses at SMSU.
The fall session will kick off at 3 p.m. on Wednesday, Sept. 14, 2016 in Charter Hall 201.
This year's program features a presentation by Michael Lansing, titled "Insurgent Democracy: New Visions of the Nonpartisan League." Lansing is the Associate Professor of History at Augsburg College in Minneapolis. A historian of the modern United States, his research focuses on the North American West and Midwest, political history, environmental history, and gender history. Lansing is the author of Insurgent Democracy: The Nonpartisan League in North American Politics.
GOLD is an acronym for Growth, Opportunity, Learning, Development. GOLD College offers non-credit classes with a variety of topics. Typical recurring themes include computer skills, exercise, art, hobbies, and a variety of historical and current events.
Study groups are planned for six weeks, from Sept. 19 through Oct. 28.
Originally named Senior College, GOLD College today draws its participants from a roughly 60-mile radius. GOLD College welcomes participation from all age groups, not just seniors, and that has been an area of growth, said Marcie Beukelman, GOLD College coordinator.
Each class is held one day per week for two hours. There are no tests or grades, and it is for people of all educational levels.
Contact the GOLD College office for registration materials and more information: GoldCollege@smsu.edu; 507-537-7164.
Related Articles