Alex Weis a Leader in Many Ways
Published Tuesday, September 06, 2016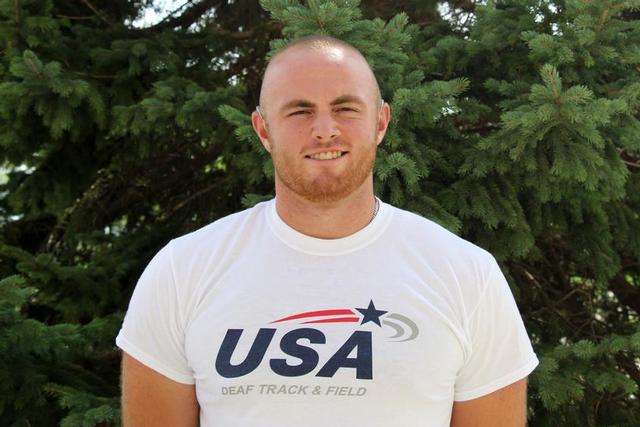 Alex Weis
SMSU track and field athlete Alex Weis will represent the United States at the Deaflympics in Samsun, Turkey, July 18-30, 2017.
Weis, a Luverne, Minn., native, is a senior at SMSU. He has been an advocate for the hearing impaired for quite some time, and last semester started the Sign Language Club on campus.
"The purpose is to learn sign language at the basic level," he said. "We had between 20 and 30 regularly show up. This year we hope to have between 40 and 50," he said of the club, which meets every Thursday. "There's been a lot of education majors attending. There's various disabilities out there where sign language is very helpful."
Weis is hearing impaired, a condition that developed when he was two years old. "I damaged my auditory nerve when I had an ear infection," he said. "I'm not 100 percent deaf, but I'm in that last category, 'profound,' before being deaf. I deal in the 10 percent area."
 To compensate, he has become an excellent lip reader. "I developed it naturally over the years," he said. "I put words and lip movement together. For some people it's hard to read their lips, just because of the way they talk."
Sign language, like any language, has its challenges, he said. "It's probably a little bit easier," he said. "You're using English with hand movements," he said, molding one hand over his fist, with the thumb protruding, to sign a turtle, as an example. "You put things together to make it a learning experience. At the meetings, we learn the basics, the alphabet, some basic signs. I didn't become fluent until my senior year of high school when I started getting connected with deaf coaches."
Weis is a volunteer coach for Special Olympics, working with powerlifters and track & field weight event participants. "We have athletes from high school all the way up to 50 or 60 years old," he said.
He knows something about weightlifting. He arrived a freshman weighing 225 pounds, and through many hours in the weight room, is now a solid 245.
Weis is an accomplished track & field athlete who throws the weight and shot put indoors, and the hammer, shot put and discus during the outdoor season. He holds the school record for the shot put and hammer throw outdoors, and the shot put and weight indoors.
"I didn't even know what the weight event was when I got here," he said. "It's 35 pounds. Outdoor, it's the hammer. I throw it around 180 feet now, and I'd like to get over 200 this year."
His favorite event is the hammer throw. "It's a much more complex technique and it's fun to spin around as fast as you can and throw it as far as you can and watch it go."
His distances in the shot put, discus and hammer have qualified him for the U.S. Deaflympics team. He's trying to raise $5,000 for the trip and those wishing to support him may do so through the USA Deaf Track & Field website at: www.usadtf.org.
He's a physical education teaching major and has worked with Associate Professor of Physical Education Marilyn Strate as a Special Olympics coach the past two years, something he finds very rewarding.
He's also an outstanding student, having been named Academic All-NSIC for the outdoor and indoor seasons. He carries a GPA of 3.78.
Weis will be student teaching in the fall semester 2017, and after that will be looking for a job. "I hope to stay in the southern half of Minnesota," he said.
The addition of the Marshall Regional Track & Field Complex has really helped the team, he said. "It's a lot better than my freshman year, when I was throwing homemade implements from the bike trail," he said with a chuckle.
He points to Marilyn Strate, Brent Jeffers and his track & field coaches as being strong influences. "Jeffers speaks reality and what to expect in college. The coaches have been awesome, and Marilyn has been very helpful with Special Olympics."
The university's size fits him well. "I like a smaller school, it's best for me academically," he said. "I like the connection with the students in the class, and the relationships with the professors."
He's made the most out of his college experience, and urges others to become involved. "Build a network of friends. One way to do that is to try clubs you might want to be involved with, go to events sponsored by clubs. Try to burst your bubble a little bit, talk to others, you will eventually find people you want to hang out with."
Related Articles