Alumnus Has 4 Paintings at New U.S. Bank Stadium
Published Friday, September 16, 2016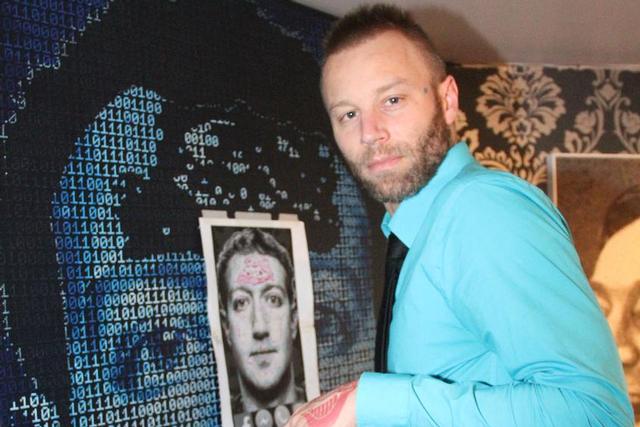 Nicholas Schleif
SMSU alumnus Nicholas Schleif's artwork will be prominently displayed in the new U.S. Bank Stadium on Sunday, Sept. 18 when the Minnesota Vikings host the Green Bay Packers in the first regular-season home game in the $1.2 billion facility.
An art collection estimated in value at several million dollars is included in the stadium, and was unveiled recently. Stadium and Vikings officials commissioned the art through Sports and the Arts. Most of the 104 artists featured are from Minnesota — including several past Vikings themselves.
Schleif has four pieces that will hang in the stadium. The crown jewel of the four is called "Purple Reign," a 4 1/2-by-7 ½-foot acrylic on canvas painting in which Schleif re-created an image of Prince using words from the lyrics of Prince songs.
The lyrics line up horizontally across the painting, but also stack up vertically so that, like a crossword puzzle, they spell out key words from Prince's life, words such as Revolution, Time, Royalty, First Avenue and Paisley Park.
"Prince had been a hero, an idol, of mine," he said. "I had done the other three pieces already, they had been accepted, and when Price died, I offered to do one for free. I contacted the Vikings, but didn't hear from them for a while."
Finally, he was contacted by the Vikings, and told he had a July 11 deadline, or five weeks. "It was easily three months worth of work," said Schleif. "I cut myself off from the world to complete it. I worked, ate, and slept. When I'd woke up, I would go at it again."
The 2006 Studio Art graduate said he works best under pressure. Although it was a stressful time making the Vikings' deadline, it enabled him to "be more immersed in the piece. It was three or four days before I touched the canvas, I was selecting the lyrics I wanted to use. Most are from his hits, but there are some 'B side' lyrics as well."
It's an intensely personal piece for Schleif. "I used Prince's lyrics to make my autobiography. It's my story, in Prince's words. It's the most personal things I've ever done. There was a huge range of emotions going into that piece."
It hangs in the entry to the Medtronic Club, Valhalla Suites and Delta Sky 360 Club areas of the stadium. Fans can see the piece through the glass doors of the entry on the main concourse, near the southeastern side of the building.
His other three pieces, created in a similar style to his Prince portrait, are of former Vikings coach Bud Grant, and running backs Chuck Foreman and Adrian Peterson. They are located in the same hallway with the artwork by Viking alumni. "It's on the fourth floor, outside the box seats," he said.
The Grant painting is 4-by-6 and is actually two paintings that go together to form one, or diptych style. The Foreman and Peterson paintings are 4-by-5.
Schleif is a Comfrey native now living in a house/studio in Milroy. The block building was formerly used to store grain, he said. He's about two-thirds through a renovation of the space.
He came to SMSU "hands down, because of Ed Evans. I knew of his work, and that he was a professor there. He retired after my first semester, and we have a close professional relationship."
As an artist, he's constantly thinking of his craft. Most recently, he's been concentrating on a series of pieces with Civil Rights and gun control themes, using gunpowder as his medium. He describes himself as a "non-traditional portrait artist," and his unique, meticulous style has won him a lot of fans. "I'm fascinated by the human likeness," he said. "So often, people look like what they do." He is currently working on a portrait of Facebook co-founder Mark Zuckerberg. The piece isn't commissioned, but he said the San Francisco 49ers are interested in perhaps purchasing it. That NFL team has purchased a portrait by Schleif featuring Bill Gates and Steve Jobs together, with their likenesses made out of binary code.
Oddly, he rarely delves into sports. He did a portrait of Walter Payton, from which prints were created and sold through the late Chicago Bears player's foundation. His other forays into sports are the three Vikings images hanging in U.S. Bank stadium.  "Maybe I should do more," he said with a chuckle.
He's a night owl, and normally works from about 10 p.m. until about 4 a.m. "I often end up going to bed as the sun comes up. It's an odd schedule," he said.
Schleif's unusual style and commitment to his craft have won him some notoriety in recent years, and he looks forward to expanding his artistic horizons in the future.
Related Articles