Six to Receive Alumni Awards at Homecoming
Published Friday, September 16, 2016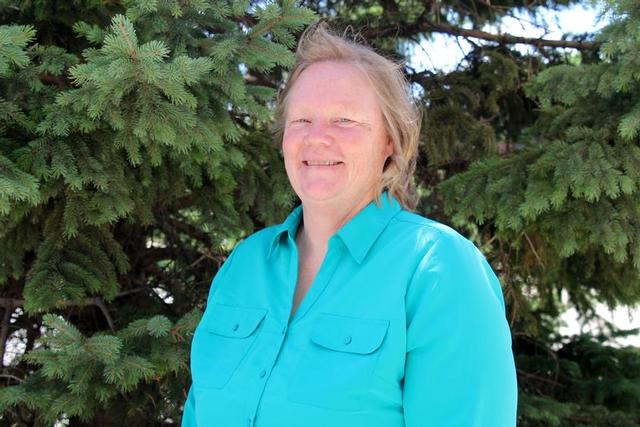 Marilyn Strate, a 2016 Alumni Association award recipient
Six individuals will receive Alumni Association awards at  a Sept. 30 noon luncheon in the Conference Center Ballroom on the campus of Southwest Minnesota State University.
The event is part of Homecoming 2016, with a theme of "Mustangs Unleashed."
Alumni Achievement Awards are presented to alumni in recognition of professional success and the positive reflection made on the university and fellow alumni. Alumni Achievement Award recipients include Jerry Bly, '71, a retired agricultural representative for several companies and his wife, Ricke, '73, a retired elementary school teacher; Bill Fenske, '84, Chief Financial Officer at Rice Memorial Hospital in Willmar, Minn.; and Ann Roemen, '84, Executive Director of Independent Healthcare Associates and Chief Executive Officer of AccoCare, both in Sioux Falls, S.D.
Honorary Membership Awards are presented to individuals who are not SMSU graduates, but who give their time, talent and enthusiasm to the university. The Honorary Lifetime Membership Award recipient this year is Marilyn Strate, an Associate Professor of Education within the PE Program.
The Graduate of the Last Decade (GOLD) Award is presented to an individual who has distinguished him/herself in the last 10 years since graduating. Sara (Graf) Jones, '10, a financial analyst for UniPro Foodservice in Atlanta, Ga., is the 2016 GOLD (Graduate of the Last Decade) Award recipient.
Jerry and Ricke (Madsen) Bly
SMSU alumni Jerry and Ricke (Madsen) Bly met at SMSU, and continue to be big supporters of the University years later.
Jerry is a 1971 charter class graduate who met his wife Ricke while both were RA's at what was then Southwest Minnesota State College. Jerry transferred to SMSU after a year at Augustana and received a Business Administration degree.
"We were RA's in adjacent houses, we shared a wall," said Jerry, recounting how they met. "She was in Eldorado, and I was in Kamasutra."
Ricke received a secretarial degree from Alexandria Area Vocational School before taking an office job at SMSU, where she tired of watching other students have fun and decided she didn't want to spend her career behind a typewriter. She pursued a degree in Elementary Education, which she earned in 1973.
Jerry started out in retail, and was with Parade, now called Shopko, for several years, with stops in Hutchinson, Minn.; Iron Mountain and Marquette, Mich.; and Beaver Dam, Wis. The Garretson, S.D., native was on a management track, but the moves were frequent, so he struck a deal with Ricke, a Tyler native: You find a teaching job, and I'll follow. As fate would have it, they came back to the area for a visit, and there was a teaching opening in Tyler. She got the job, beginning a long elementary teaching career there.
Jerry began his 37-year career serving agriculture as a sales manager with Southwest Implement, and agronomy manager with Lincoln County Coop before being recruited by American Cyanamid, where he was an account manager. Through mergers and acquisitions, Jerry continued as an account manager with American Home Products and, later, BASF, the chemical company. Jerry retired two years ago as a Senior Account Representative from BASF. He continues to work with his brother and son as a sales and marketing consultant with Aspect Ag, a new agricultural chemical company based in Marshall.
Jerry is on the Foundation Board and has been a key advisor as the University expands its ag-related academic offerings. He understands what the university means to the region.
Ricke has been instrumental in planning the annual Danebod Folk Meetings hosted by Danebod Lutheran Church in Tyler. "I've been involved with the programming for 20 years," she said. "We appreciate that the university has had professors who come and lecture."
She has a passion for the Danebod Folk Meetings, and is delighted to tell the story of its beginning, how it was something of a "place of safety and congregation for Danes who settled the area" back in 1886.
The two mirror one another in their praise of the role that SMSU plays in the region. "For me, my career would not have been what it is without SMSU. The University continues to be important in our personal and professional lives," said Ricke.
"The size of the institution attracted me, and the closeness to the faculty. We were starting something new, and not everything was cut and dried. The student population was connected in one shape or form, and it was an awakening to the political side of the world."
Both are surprised at their Alumni Award selection, and appreciative for all the university has done for them to contribute to their professional success.
They have two grown children, Eric, and Megan Gronewoller, and three grandchildren. Eric and his wife Erica (Yingling) are SMSU alumni.
Bill Fenske
Bill Fenske is a hometown boy who didn't have far to go when he made his college choice.
Bill is a Marshall native and a 1984 alumnus with a degree in Accounting. He earned his MBA from the University of Minnesota, and his Doctorate of Business Administration from Metropolitan State University.
He is the Chief Financial Officer at Rice Memorial Hospital in Willmar, a $100 million dollar, 1,000-employee company. He's been there 10 years. He's held executive positions at Agnesian Health Care in Fon du Lac, Wis.; Winona Health; and Tri-County Hospital in Wadena, Min.
After graduation, he went to work with an accounting firm that happened to audit hospitals. That was his initial contact with the health care industry.
He is passionate about the health care industry and volunteers on several regional and statewide boards, including the Healthcare Financial Management Association; American College of Healthcare Executives; Becker's CFO/CIO Advisory Council; and the Hospital 100 Advisory Board.
 "I think there's a higher calling for all of us, and health care is my calling. I don't do direct patient care; I help others," he said. "I believe in the concept of servant leadership."
His brothers, Mike and Marc, attended SMSU so he knew about the University when it came time to choose. He had heard good things about the Accounting program, and, in his words, "there was no reason to go anywhere else."
Healthcare is an industry that seems to change every day. The needs and demands for services constantly evolve, and planning for changing technology is a big part of his position. "Technology is extremely expensive and one of my many jobs is to figure out how to pay for it," he said.
 "I have to have a crystal ball in my pocket," he said. "One big thing is anticipating what is coming next, and how we can position ourselves to meet those challenges."
Bill remembers receiving a great education at SMSU, and really enjoyed the small student-to-teacher ratio. "The atmosphere created a wonderful learning experience, both in the classroom, and socially, in the dorms."
He's a big believer in making the most of the college experience, which includes "taking as many hard classes as you can, especially communication classes. Everything I do I have to communicate — verbally, written, or even my body language," he said.
Bill enjoys golf, hunting and college football and is humbled to receive this alumni award.
Bill and his wife, Anne, have three children: Edwin, 25; Jack, 23; and Charles, 21.
Ann Roemen
It's a long and winding road that brought Ann Roemen to where she is today: Executive Director at Independent Healthcare Associates and Chief Executive Officer of AccoCare, both in Sioux Falls.
The Dell Rapids, S.D. native graduated in 1984 with a degree in Speech Communication: Radio-TV.
How she got from Career Point A to Career Point B is similar to other Mustang success stories: starting out professionally with a good education, and adjusting to what life has in store.
Ann began her career producing educational videos and radio and television advertisements. From there she went into television, where she was the assignment editor at KSFY-TV in Sioux Falls. The rigor and demands of working in the news business were a bit much at the same time she was starting her family, so she changed career paths and accepted a marketing position with University Physicians. While there she decided she needed to formally expand her business knowledge and went on to earn her MBA. Ann stayed with the company for 16 years, the last five of which she was the executive director.
Ann was recruited to lead Independent Healthcare Associates, a group which provides contracting, credentialing and educational services to independent physicians and hospitals. She has been in this role for nine years. In conjunction with this position, Ann recently accepted the position of CEO of AccoCare, an Accountable Care Organization formed by some of the same physicians at Independent Healthcare Associates. AccoCare was approved by Medicare and is charged with finding ways to save money on the total cost of care provided to Medicare beneficiaries.
She picked what was then SSU because she wanted to be somewhere close enough, and yet far enough way, from her home in Dell Rapids.           
She mentions the late Dick Baun and Jerry Parnell as individuals who assisted and supported her throughout her academic career. "They encouraged me, pushed me, and had faith in my abilities" she said.
As for the medical industry, she calls it "Very complex, and ever-changing." She says technology and federal regulations are a driver of costs, and sometimes put an undo financial burden on smaller practices.
During her career Ann has been instrumental in the development of many community events such as health fairs and immunization clinics, and an old-fashioned radio program to raise Alzheimer's disease awareness.
She has spent countless hours promoting and encouraging others to become certified in the field of medical practice management, and is a mentor and role model to other professional women. Many organizations benefit from her volunteer efforts, including the Sioux Empire United Way, South Dakota Medical Group Management Association and the American College of Medical Practice Executives. She has also served on the SMSU Alumni Board.
Ann is married to Dan Beacom. While not an SMSU graduate, Dan does have a connection with the university in that he competed here, on the SMSU track, in the former Banana Relays. Ann and Dan have three children: two sons, Jordan and Jonah, and a daughter, Hannah, a transfer sophomore at SMSU this year.
Ann said she is extremely humbled to receive the alumni award.
Marilyn Strate
Teaching brings with it a deep satisfaction that drew Marilyn Strate to the profession years ago.
Marilyn is an Associate Professor of Education within the PE Program, and teaches Recreation and Sports Management courses.
The Nebraska native is in her 25th year at SMSU and was one of the coaches responsible for solidly establishing the softball program at the University.
She attended Wayne State, where she was later the volleyball and softball coach. At the time, former SMSU women's athletic director Deb Denbeck was a coach at St. Mary's in Omaha, and they knew one another as rivals.
Denbeck got the position at SMSU, and called Marilyn one day about the possibility of coaching softball. She became the fourth softball coach in program history, and her eight-year record is 225-138, a winning percentage of .620, second-best in program history.
She has been active with Special Olympics in Marshall for over 10 years now, starting with three athletes in the beginning, to over 80 now, ranging from age 3 to 71.
She was the national Special Olympics swimming coach in 2014, when the event was hosted at Princeton University. Her eight athletes brought home a total of 36 medals.
She also teacher PE to home schooled students in the Marshall community, about 40 right now. She has been active with the Boys Scouts in the past and is a merit badge counselor, helping with Scout educational programs.
Marilyn is the advisor for the American Sign Language Club, the Sports Management Club and the Ultimate Frisbee Club. She is the academic advisor for all Recreation and Sports Management majors and supervises all internships and practicums.
She loves all sorts of outdoor sports, including fishing, camping, snowmobiling and canoeing. She took a leave in New Mexico in pursuit of her Ph.D. degree and soon found herself on a hot air balloon crew. "I've been up more than 50 times now," she said.
What's kept her here all these years? "I think it's the Marshall community," she said. She loves the friendliness of those who live in the region, and feels that faculty and students see the value of an SMSU education. "It's like a family here," she said. "I believe in lifelong learning, and feel that I learn from my students, just as I hope they learn from me."
The University "has done a great job of improving its facilities, which draws not only athletes, but students in general. And I like that SMSU does a great job of bringing elementary and high school students to campus for events like the Speech Spectacular, sports camps, and Boys State. It gives the university great exposure."
Marilyn is an active supporter of the Let's Go Fishing With Seniors program at Lake Shetek, which takes a number of senior groups out for lake excursions on a pontoon.
"It's nice in that, through all the things I'm involved with, it gives our students an opportunity, too, for service learning and internship hours. They are getting an education in the classroom, and outside the classroom."
Marilyn has a daughter, Kori, and four grandchildren and three great-children. Kori, who is married to Kalvin Guza, was an All-American swimmer at St. Cloud State.
Sara (Graf) Jones
Volleyball runs through the veins of 2010 alumna Sara (Graf) Jones.
The Mt. Pleasant, Iowa, native earned a degree in Accounting and is a financial analyst for UniPro Foodservice in Atlanta, Georgia.  She joined the company in July 2010 and this is the fourth position she has held during that time.
UniPro is the largest food distribution cooperative in the U.S. and has employed numerous SMSU graduates. Its former CEO sits on the Culinology Advisory Council and UniPro annually recruits top SMSU students, like Sara.
She works with numbers, and assists most of the departments in the company.  She has come to love the Atlanta area, where she's just an hour away from the mountains and a few hours away from the beach.
Sara joined the Mustang volleyball team as a freshman in the fall of 2006 and after the Mustangs' first tournament, they cracked into the national top-25 rankings. They have not dropped out since.
Talk to Sara long enough, and volleyball comes up. She has been instrumental in starting a volleyball alumni club, a group of Mustang players from different eras who are making the effort, through social media, to keep the players connected.
She remembers fondly the camaraderie with teammates, and participating in the Mustang Mail program and the Free Tax Assistance clinics.
She recalls the support that athletes at SMSU gave one another. "Basketball, baseball, softball, all the sports, we supported one another and would be there," she said.
Her hometown played in the same conference as Mustang head men's basketball coach Brad Bigler, "and he saw my name, and made a point of finding me (on her campus visit). That was a nice gesture, and made me feel welcome."
Sara continues to participate in volleyball in adult leagues in Atlanta, and has played for two teams that have qualified for the national tournament in recent years.
Mustang coach Terry Culhane was a big influence on her during college. "Tough love" is the way she describes his coaching style, and she appreciates that even more today. "It's helped me receive criticism and learn from it.  It's helped me tap the potential we all have," she said.
At SMSU she enjoyed participating in FCA, Shine On and a volleyball Bible study group. She was a Mentor Scholarship recipient and worked in the Advancement area.
In Atlanta, Sara is active with the Lutheran Church of the Resurrection, and volunteered with Open Hand, which helps meet nutritional needs of individuals in a number of ways. She is a member of her company's Retirement Committee, which reviews the current status of its 401(k) plan.
Sara married her husband, Robert Jones, this past July 30. She is appreciative of the honor, and grateful for having picked SMSU as her college choice.
Related Articles