Katie Salden is Rising Star in Children's Advocacy Field
Published Thursday, October 06, 2016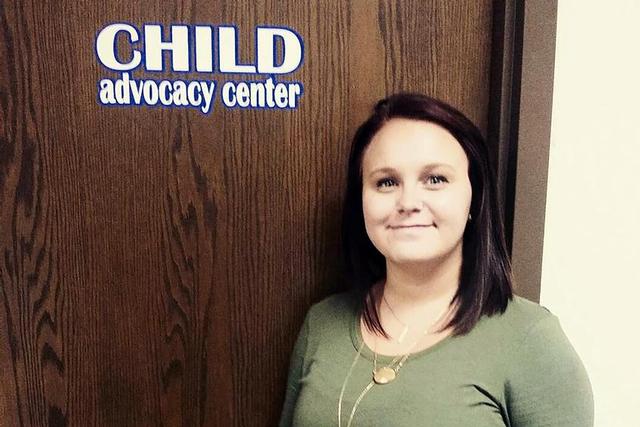 Katie Salden
Katie Salden has advanced quickly in her field since May 2016, when she graduated from Southwest Minnesota State University. The Cokato, Minn., native is now serving as the Redwood County Children's Advocacy Center coordinator. She is one of the youngest coordinators in the nation.
The Children's Advocacy Center (CAC) in Redwood County, Minn., was created in 2011. As the program grew and a need for full-time staff arose, Redwood County Attorney Steven Collins reached out to BC Franson, Associate Professor of Justice Administration at SMSU.
 "I try to get to know my students by being available during office hours," says Franson. "When I learn about who they are and what they want to accomplish, I can suggest ideas or send job openings their way. Katie had told me about her passion for working with child victims, and then I got a call from the Redwood County attorney saying they needed an intern."
Franson immediately passed the request to Salden, a Sociology major with a Criminal Justice minor. Within 20 minutes she had responded, and within 24 hours had interviewed and accepted the position.
Salden's work with Redwood County started as an internship and turned into a full-time job. This is becoming more common, says Melissa Scholten, SMSU Director of Career Services. "Internships are often seen as a way for a student to "try-on" a career and gain experience in their chosen field. More and more organizations see the experience as a way to see if a student will be the right fit for their organization and view the internship period as an extended job interview," she said. "While an internship does not guarantee a full-time offer, it can often lead to a student being in the right place at the right time as the organization evaluates their current hiring needs."
Salden had a major task to accomplish, however, before the position could become full time. "The Child Advocacy Center was funded for one year, so to keep it going we needed additional funding. I watched webinars and read grant manuals, and spent weeks writing and rewriting a grant proposal," she said. Several mentors helped provide feedback, including Minnesota Children's Alliance and Salden's grant manager, Jean Miller.
On August 1, 2016, at 10:00 a.m., after four months of waiting, Salden was notified that the Office of Justice Program — Crime Victim Services grant had been approved. The CAC was funded for the next five years. "I sat down on the couch and cried for four hours," she said. "It was the most amazing moment of my life up to this point."
While Salden is young compared to most Child Advocacy coordinators, her 22 years were not an obstacle to Redwood County. A survivor herself of child sexual abuse, Salden has a special passion for justice advocacy. "I've been on both sides," she said, "so I know what needs to be done. I know where the system has failed in the past, and I know what needs to be done differently."
Her co-workers have been very supportive as she gains experience, and they understand she will be asking lots of questions. "I have a lot of drive and passion for this work, and I think that gives me credibility," she said. "My advantage is that I'm not set in any ways yet. The Redwood County CAC and I are growing up together."
Salden credits her professors and the SMSU Sociology and Criminal Justice departments for preparing her to succeed so quickly. "BC Franson, Dr. Kerry Livingston, and Dr. Cindy Aamlid have been more than just professors, they've been my biggest cheerleaders. Even when I wasn't in their classes, they made a point to check in and let me know about opportunities.
 "To the faculty at SMSU, you are more than just a student. They want to know what your impact on the world is going to be, and how they can help you achieve that." she said.
Salden appreciated learning real-life skills such as motivational interviewing and how to build a resume. "It's not just learning the material at SMSU, it's learning how to build a life and how to be citizens," she said.
Outside of class, Salden was involved in Mustang Maniacs, Students Today Alumni Tomorrow, Enactus, Intramurals, and served as a Senator in student government.
She sees the University's family atmosphere as something that sets SMSU apart. "We really do bleed brown and gold." she said. "Especially when the Bigler family faced the tragic loss of their son, it was clear to me that this is a community. It's more than just a college."
Salden is currently applying to the master's program in Sociology at South Dakota State University. Her ultimate goal is to become a professor. "I want to go full circle and inspire someone else to succeed in the same areas I have."
She is grateful to her professors as well as a number of mentors from Redwood County, Southwest Health and Human Services of Redwood County, New Horizons Crisis Center, Redwood County Police Department and Minnesota Children's Alliance. "I have no idea how I got here, but I'm so thankful I did!" she said.
And she's not taking it for granted. "I'm going to set up a scholarship fund at SMSU to help students who are interested in child advocacy and protection. I want to help other students follow their passion, and make college a bit easier for them."
Salden encourages students to "talk to your professors! Get to know their life, ask them what they did before and what made them want to be a professor. And then get involved, open yourself up to new opportunities!"
Related Articles